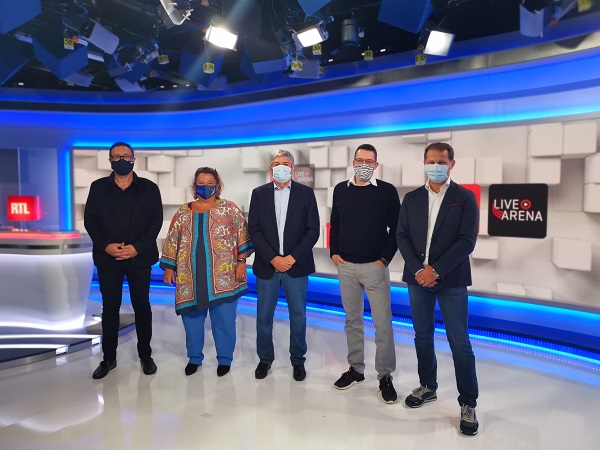 L-R: Marc Diederich (FLF); Karine Reuter (LFL); Paul Philipp (FLF); Christophe Goossens (RTL); Pascal Casel (RTL); Credit: RTL
Major team sports in Luxembourg are set to be livestreamed on a new digital platform.
Starting this autumn, RTL Sport Live Arena, in partnership with team sport federations in Luxembourg, will be livestreaming football, basketball, handball and volleyball matches. Livestreaming will cover all the matches of the BGL League and the Honorary Football Promotion, the Total League in basketball, the Axa League in handball and the Novotel Volleyball league.
This new free service aims to increase the visibility and promotion of team sports in Luxembourg among the general public. It also allows clubs to develop their fan communities and generate new advertising revenue.
Following the signing of the livestream contract by the FLBB, FLH and FLVB federations last July, the FLF and Lëtzebuerger Football League committees met on Wednesday 2 September 2020 to sign the agreement for the coming seasons.