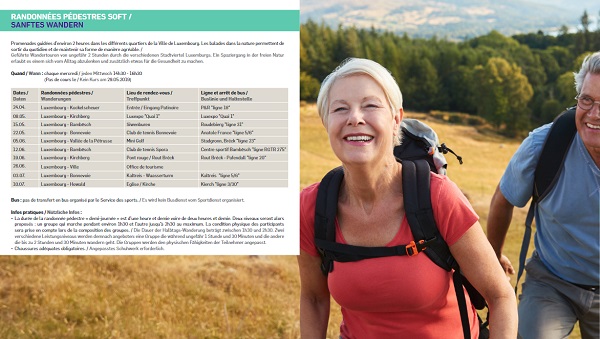 Credit: VdL
The Ville de Luxembourg (VdL) has presented its special programme "Outdoor Sport for Older People", starting on 23 April 2019.
Sport and movement are the key factors for an active and healthy life into old age. Scientific research has shown that regular physical activity improves physical and intellectual abilities, prevents age-related diseases or has positive effects on their development. As such, this programme, which forms part of the VdL's "Sports for all" campaign, offers physical and sports activities for people aged 55 and over.
Adapted to the needs, expectations and abilities of older people and allowing them to participate in group activities, this sport-leisure programme includes some forty activities, including aqua gym, soft gym, senior sports, soft bodybuilding, nordic-walking and dancing.
From Tuesday 23 April 2019, the programme will be expanded to include new outdoor sports activities to adapt the offer to the spring and summer periods. These include the following weekly classes: nordic-walking on Mondays at 10:00 in Bonnevoie; boules and petanque on Tuesdays from 14:00 - 16:00 in Kockelscheuer; taijiquan on Wednesdays at 18:00 in "Kinnekswiss" (municipal park); "soft" hikes of about two hours on Wednesday afternoons in the vicinity of the city; golf discovery on Thursdays 13, 20 and 27 June and 4 July 2019 from 17:00 - 19:00 at the Luxembourg Golf Centre in Kockelscheuer; walking and nordic-walking on Fridays at 10:00 in Kockelscheuer; qi gong on Wednesdays at 17:00 and Fridays at 13:00 in Kinnekswiss.
Full-day activities include: advanced hiking every Tuesday across the country's different regions; one-off cycling tours across the country and its green surroundings; kayaking on the Sûre, Semois (Belgium) and Moselle; golf (for beginners and advanced) on Tuesdays at the "Golf and Country Club" in Christnach. Nordic-walking, taijiquan and qi gong hiking activities as well as golf courses (in Kockelscheuer and Christnach) are also accessible to adults (from the age of 16).
"Outdoor Sport for Older People" leaflets with the complete programme and details of the various activities are available at the Bierger-Center, at the Town Hall, in the city's sports facilities, at the Sports Department and on the VdL website (sportspourtous.vdl.lu). Interested persons can request a registration form from the Sports Service (5 Rue de l'Abattoir, L-1111 Luxembourg; tel. 479-64400 or 479-64403) or download the form from www.vdl.lu.