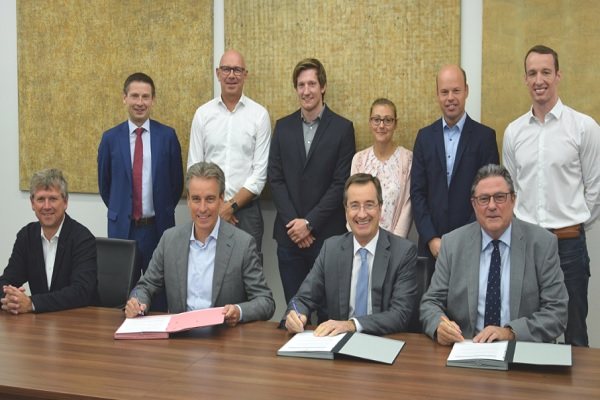 Credit: MENEJ
Luxembourg Education Minister Claude Meisch today signed an agreement aimed at better ensuring a dual sports and school system for promising athletes in secondary education.
On 11 September 2018, the Minister of National Education, Children and Youth, Claude Meisch, and the heads of the Luxembourg Institute for High Performance in Sports (LIHPS), represented by André Hoffmann (president) and Rob Thillens (VP), and the Luxembourg Olympic and Sports Committee (COSL), represented by André Hoffman (president) and Daniel Dax (secretary general), signed a convention setting up a dual sports-school system in Luxembourg.
The system set up by the convention provides for each student-athlete who benefits from it both support from a tutor who coordinates the student's school career whilst taking into account their sports project, and school support measures. The tutors come from either Sportlycée or LIHPS. The overall monitoring of the system is the responsibility of the Sportlycée coordination committee, whilst management is ensured by both the Sportlycée and the LIHPS, which has Laurent Carnol on hand - an expert in the double career of top athletes. Targeted student-athletes will be chosen on the basis of their sporting results on the advice of the COSL.
The Ministry of National Education, Childhood and Youth contributes to the project through the provision of a member of the staff of Sportlycée as well as by the attribution of school support classes.