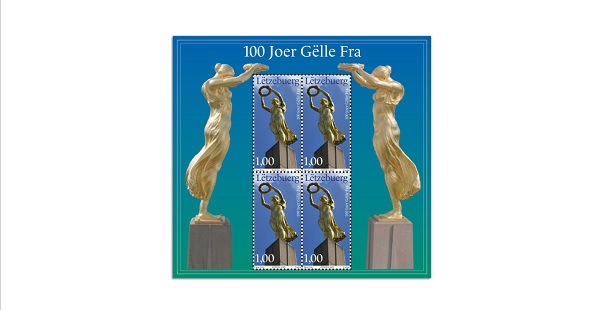 Credit: POST Luxembourg
POST Luxembourg has issued a series of six new stamps, including the stamp "Les 100 ans de la Gëlle Fra" (100 years of the Golden Lady) with curved gilding in 22-carat gold, as well as the special "EUROPA" stamp.
POST won first prize in the EUROPA 2023 design competition on the theme "La paix: la valeur humaine la plus importante" (Peace: the most important human value). This motif, created by designers Linda Bos and Runa Egilsdottir of A Designer's Collective, is used by more than 50 postal companies when issuing their EUROPA stamps in 2023.
Other stamps in this series include "Les 25 ans de l'Institut Européen des Itinéraires Culturels" (25 years of the the European Institute of Cultural Routes), the "200e anniversaire Edmond de la Fontaine" (200th anniversary of Edmond de la Fontaine), an "Asteroid Day" stamp and an "Esch-sur-Sûre" stamp.
Dedicated exclusively to this new stamp issue, the publication "PhilatéLux" of May 2023 lists the different stamps and provides information on their respective characteristics and designs.
The new special stamps are now available in the POST Philately online store, at the philatelic counter (13 Rue Robert Stumper, Cloche d'Or), as well as in all national post offices.