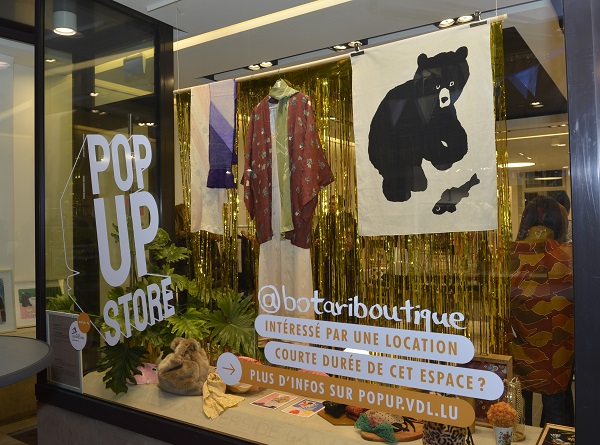 BOTARI, one of the previous pop-up stores; Credit: Photothèque VDL / Charles Soubry
As part of its "pop-up stores" project, the City of Luxembourg has launched a new call for applications for the rental of premises located at 38 and 40 Rue Philippe II in the capital from 1 March 2021.
From now until 31 January 2021 inclusive, interested creators, artists, traders or startups can apply using the form available on the website of the City of Luxembourg. The applications will be analysed in February so that the new pop-up stores can open their doors from March 2021.
The premises each have an area of ​​approximately 45m2. Proposals in the area of ​​clothing, accessories and jewellery, home equipment, services and leisure, care and beauty, art, fashion and photography or dry packaged food are authorised.
The minimum rental period is one month and the maximum duration is six months; an extension up to three months is possible depending on the availability of the space. The amount of monthly rent ranges from €650 to €2,250 depending on the specific situation of the entrepreneur or merchant and a general flat rate for charges is added to the rent.
Since the launch of the project in autumn 2019, several operators have had the opportunity to offer a wide variety of products and concepts:
- Sense of Japan, open to the public until the end of February 2021 at 38 Rue Philippe II: Japanese sakes and whiskeys and specialised travel agency services;
- Asport, open to the public until the end of February 2021 at 40 Rue Philippe II: trendy collections of sports and leisure clothing, footwear and accessories for women, men and children;
- Bricks4Kidz: creativity centre giving parents the opportunity to sign up their children for an educational and fun workshop while they shop;
- BOTARI: a space combining a boutique with exclusive or artisanal items (sustainable fashion, accessories, perfumes, etc.) and a gallery with meetings between creators, artists and artisans; the store is now located at 5 Côte d'Eich under the name "KYO".
The concept allows creators, merchants or startups to test a new product, service or concept before settling down permanently. The pop-up store project thus serves as a springboard, as also evidenced by "La Manufacture Bohème" which has been installed since September 2020 at 9 Rue Chimay and which will extend its experience beyond December 2020, taking over the rental of a longer-term business premises.
Following the success of the pop-up stores in the Upper Town and as part of the "Mon quartier - mon commerce" project, the College of Mayors and Aldermen of the City of Luxembourg have decided to export the concept with the opening of new pop-up stores in Avenue de la Gare. A first call for applications will be launched soon.