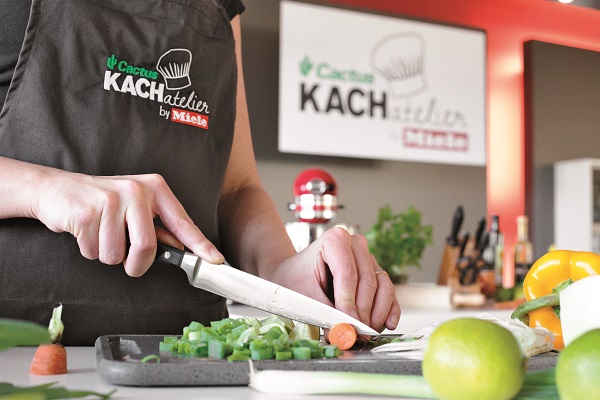 Credit: Cactus
Luxembourg supermarket chain Cactus has teamed up with Miele to launch the new season of "Cactus KACHatelier by Miele" cooking workshops.
Once again this year, Cactus and Miele have decided to put their skills together to offer new culinary workshops at the "Cactus KACHatelier by Miele" in Windhof. According to their respective philosophies, Miele "Immer Besser" and Cactus "Nëmmen dat Bescht", the two brands will share their common commitment with participants by proposing a new concept of culinary workshop in two menu options: an "express" Cook & Lunch menu for lunch and a "relax" Cook & Eat menu in the evening.
These workshops are led by a Miele culinary expert, who will introduce easy, healthy, quick and tasty daily recipes with regional and seasonal products offered by Cactus. Open to everyone, the culinary expert ensures that all participants complete the meal, including complete beginners. Participants will learn about the products used, receive advice and tips and discover new cooking techniques in order to refine their skills.
Finally, at the table, participants will taste their meal in a friendly setting, accompanied by wines selected by Cactus' oenologist during the "Cook & Eat" evening courses.
Programme
6 February 2020: Atelier pain maison (homemade bread workshop; Cook & Lunch)
13 February 2020: Petits plats pour mon/ma Valentin(e) (Valentine's meal; Cook & Eat)
26 March 2020: Dîner de Pâques (Easter dinner; Cook & Eat)
14 May 2020: Lunch aux notes italiennes (Italian-themed lunch; Cook & Lunch)
11 June 2020: Quand le Luxembourg rencontre l'Asie (Luxembourg meets Asia; Cook & Lunch)
25 June 2020: Sous le soleil de méditerranée (Mediterranean theme; Cook & Eat)
17 September 2020: L'Inde (India theme; Cook & Eat)
15 October 2020: Viva Italia! (Italy theme; Cook & Eat)
12 November 2020: Symphonie d'automne (Autumn theme; Cook & Eat)
3 December 2020: Père Noël arrive! (Christmas meal; Cook & Eat)
For more information on the different courses and to register, visit www.cactus.lu.