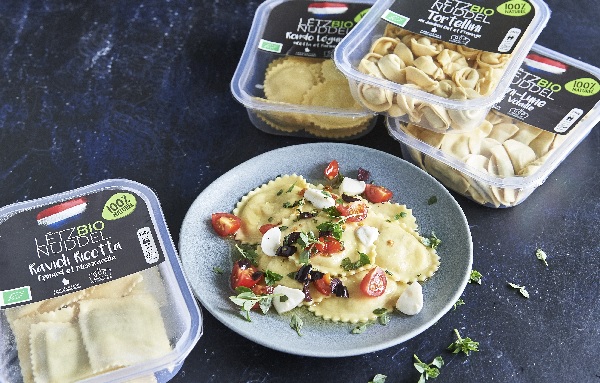 Credit: Cactus
Luxembourg supermarket brand Cactus has teamed up with Nuddelfabrik, a small Luxembourg company specialising in the production of fresh pasta, to launch a range of organic filled pasta exclusively at Cactus.
Cactus has just concluded this partnership with the Schifflange-based Nuddelfabrik. The company, bearing the label "Made in Luxembourg" and certified "organic", has developed a range of ultra-fresh organic pasta called "LëtzBioNuddel", for Cactus.
LëtzBioNuddel are filled pasta made from carefully selected organic and regional raw materials: durum wheat semolina, local meat, fresh eggs, ricotta or dried tomatoes, to name but a few. The 100% natural pasta is also free from preservatives and additives. Pasteurized pasta can be stored for three weeks in the refrigerator.
Nuddelfabrik was created in 2013 by two entrepreneurs in the gastronomy sector to meet the increasing demand of consumers for the quality, freshness and traceability of food products. Through an exclusive partnership with the Cactus brand, Nuddelfabrik now has a showcase of choice for pasta for everyone who wants to find the true taste of a craft production.
An assortment of five varieties of LëtzBioNuddel fresh pasta, evolving with the seasons, is now available in all Cactus stores.