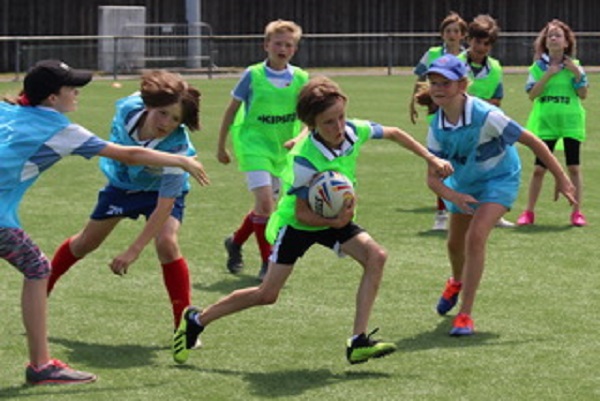 The first ever Kleos Junior Touch Rugby Tournament was played at the RCL's grounds in Cessange last week-end and involved 35 boys and girls aged 8-13 years old.
Working in six mixed-aged teams of 5 players each, they first learned the principles of play and then participated in a round-robin tournament involving 6 teams.

As part of RCL Wildgen 10's Festival of Rugby, the goal was to celebrate a 1st season of Junior Touch as RCL. "We started junior touch to provide an opportunity for girls and boys who love to run and catch balls, to play a form of rugby without tackling" said Nick Frank, President of the RCL Touch club. "From the success of the RCL Touch Club and corporate league, we knew just how inclusive Touch can be in terms of age, sex and ability. We wanted to see if the same would apply to the kids in the RCL Ecole de Rugby.
Considering this first year was a bit of an experiment, we have exceeded expectations. Junior Touch probably has more girls playing in the 8-13 age group than all the rugby clubs combined in Luxembourg. The boys who are attracted to the sport are perhaps less aggressive than their Ecole colleagues, but enjoy the greater emphasis on speed of thought and position. And looking to the future we hope that there will be more cross-over between the Touch & Rugby, so that as a club we get as many kids playing as possible."
Another unique feature of Junior Touch rugby is that parents are encouraged to play with their children. Initially the idea was to introduce the parents to Touch rugby, but the organisers found that the children really enjoyed playing with their parents. It has become an important feature of the club, giving confidence to all the players and making it a fun Saturday morning for all. And this togetherness has led to sponsorship of Junior Touch by KLEOS. Not only is it 'cool' for the kids to be sponsored by a "Space company", but has also meant they all have their own Junior Touch playing shirts.
Such has been the response this year, next September Junior Touch rugby will be expanding to include boys and girls from 13-16, with the objective of playing in the European Junior Touch championships in 2020. Those interested in playing Touch rugby can contact the organisers by email:
luxembourgtouch@gmail.com
. For further details, see
www.touchluxembourg.lu
From September, they will be playing every Saturday morning at 10:00 at Cessange as part of the RCL Ecole de Rugby.