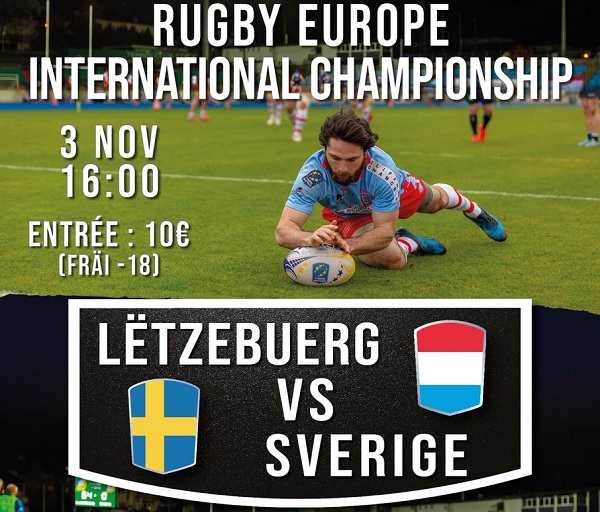 The Luxembourg squad for this Saturday's home rugby international against Sweden in the Rugby Europe Conference 1 North has been announced.
FORWARDS
Quentin Dee
Adam Marcus
Victor Cendre
Matthew Dennis-Soto
Thomas Kremer
Saman Rezapour
Anthony Drennan
Richard Marsden
Stefan Schaap
Pierre Toulet
Romain Kimmel (Captain)
Hugues Nzali
Rhys Williams
BACKS
Gareth Geoffreys
Joshua Van Zeeland
Scott Browne
Max Dozin (Vice Captain)
Yared Ketema
Guillaume Kimmel
Kevin Kombia
Ugo Nicoletta
Adrien Timmermans
Gauthier Barès
STAFF
Jonathan Flynn (Coach)
James Kent (Asst Coach)
Michael Minehan (Asst Coach)
Chris Ellis (Manager)
Gallien Colarelli (Physio)
Bertrand Kimmel (Doctor)
The match is being played at the Stade Josy Barthel in Luxembourg city and tickets (€10, U18s free) will be available at the ground.
The match will be refereed by Yann Benoit of Switzerland.
In talking with Chronicle.lu, Steve Karier, President of the Luxembourg Rugby Federation, said "The real surprise was Sweden's last match against Moldova when they won 80-6, scoring 12 tries in the process. They seem to have woken up and we really do not know what to expect."
Sweden are ranked #50, with Moldova #49. Luxembourg is ranked #64, with Ukraine #37 and Hungary #69. In the group's only other match to date, Ukraine defeated Luxembourg 24-13 in mid-October.