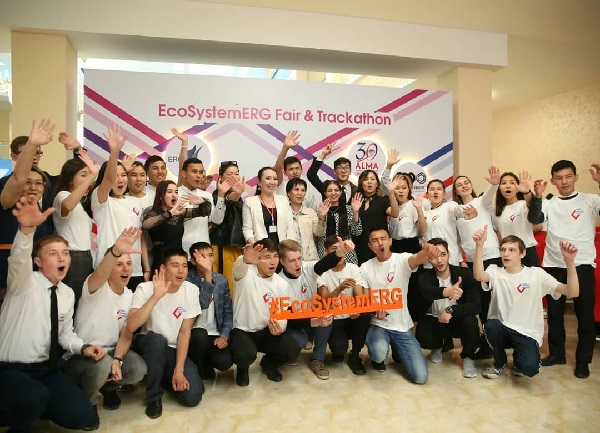 Participants of the programme; Credit: ERG
The Eurasian Resources Group (ERG), a leading diversified natural resources group headquartered in Luxembourg, recently presented the main achievements of its Student Entrepreneurship Ecosystem programme at a dedicated youth forum in Kazakhstan.
On this occasion, President of the Republic of Kazakhstan, Kassym-Jomart Tokayev, had the chance to discover the ideas developed by ERG's employees under the programme. Launched by the ERG, the Student Entrepreneurship Ecosystem programme is being implemented together with the Tel-Aviv University Friends Association and the Almaty Management University and forms part of the Group's commitment to supporting the sustainable development of local communities.
Innovative ideas generated and developed by the programme's 144 participants included a white cane for the blind with navigation assistance features, heated "smart" shoe insoles and magnetic zippers for people with motor disabilities. The ERG also spearheaded a startup concept Trackathon which featured an innovative mobile phone charger powered by movement, a voice-operated arm prosthesis and a smart wristband for earphones.
As part of the project which started three years ago, more than 5,000 students from nine universities and a college located in the ERG's operating regions in Kazakhstan have completed business entrepreneurship courses and training on startup development. As a result, hundreds of business ideas have been developed and dozens of ventures have been successfully launched.
According to Dr Alexander Machkevitch, Chairman of the ERG's Board of Directors, the Student Entrepreneurship Ecosystem is a long-term programme which offers students an opportunity to develop entrepreneurship skills and expertise. Dr Machkevitch said: "A unique corporate initiative within the mining and metals sector, the Ecosystem programme is a vehicle to stimulate entrepreneurship and raise the quality of life for communities. It also provides an opportunity for young graduates to make their mark and create jobs which are fit for the future".
Last year's winner invented a chemical formula for a shoe sponge with a view to cleaning stains and dirt from white soles and trainers. Having received a grant, the team plans to launch commercial production this summer. Another team developed an artistic wall decoration concept for industrial buildings which involves filling surfaces with cut-out shapes and covering the resulting compositions with lacquer coating for protection, durability and desired visual effect.