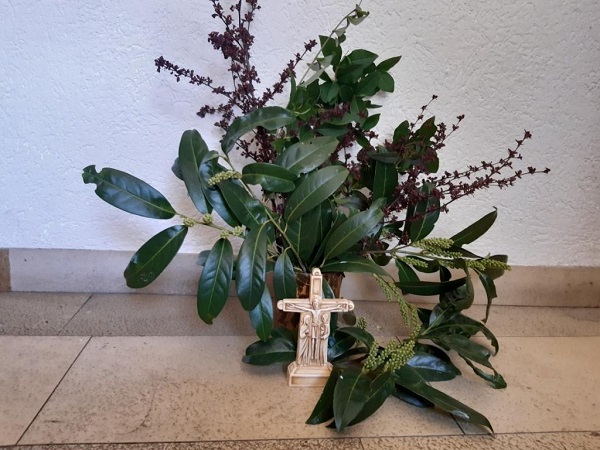 Palm Sunday service: churchgoers created their own "sacred space" at home; Credit: Catholic Church
With the gradual easing of COVID-19-related restrictions in Luxembourg, several establishments, including churches, have begun to open up again to the public.
In response to questions from Chronicle.lu, Rev. Geoff Read of the Anglican Church of Luxembourg, Fr Ed Hone of the International English-Speaking Community of the Parish of Luxembourg Notre Dame (Catholic Church) and Pastor Pietro Colaci of the Oasis Church of God all shared their experiences of operating in times of coronavirus. Chronicle.lu also contacted the All Nations Church Luxembourg, but has not yet received a response.
Anglican Church
Rev. Geoff Read explained that the Anglican Church has continued with live weekly services via Zoom since the beginning of lockdown in mid-March. The service is composed of a combination of liturgy on Power Point, hymns, songs and music recorded by the church's choir and worship group. The sermon is recorded or held live and gradually other people have been able to do live Bible readings. The church also live streams to Facebook.
Normally Sunday services have been at 09:30 and 10:30, plus an evensong at 18:30 once a month. but these were stopped in favour of one online service at 10:00, followed by an "eCoffee" where participants could socialise (virtually). During this period, more people have been attending services more regularly, with around 60-80 log-ins per service. The transition to online services has also enabled people to join in from around the world.
When face-to-face services were permitted again at the end of May, the Anglican Church decided to first use the month of June to monitor the experience of other faith groups and consult its congregation. Based on feedback, the church is trying out indoor and outdoor services over the summer with a view to offering "hybrid" church services from September on, ie a combination of in-person and Zoom services.
Both clergy have Zoom accounts for pastoral work and there is an account for groups to use. The Council meets by Zoom and the Junior Church and Youth group have also gone online, although this poses challenges for the choir who are unable to meet to sing; the weekly recording from home for Sunday services has somewhat helped in this regard. Choir and other musicians are also working on a project to record items for a resource bank to be used for Zoom and, if needed, indoor services.
"But everything takes much more time and so we have seen a slowing down and simplifying of Church life", commented Rev. Geoff Read. "We consciously decided not to try and just do online what we always do for our face-to-face services. Offering online worship is different from face-to-face. So we call our on-line Sunday service All Saints on Sunday and it is at a different time. We are discovering that the categories of "live" and "recorded", "virtual" and "real" need to be rethought".
Rev. Geoff Read concluded: "A person recently said to me, 'When we get back to real services ...'. I got what she meant, but we have been doing real services every Sunday since the start of the pandemic, just via Zoom. Church life in COVID-19 times offers both challenge and opportunity. We need to recognise and acknowledge
the pain and impact for many on personal and community life. But we have also discovered that there are new ways and amazing tools readily available that can enable the church to engage with the society that is emerging".
Catholic Church

Fr Ed Hone explained that prior to the pandemic, over 800 people attended Mass each weekend in St Alphonse, with more than 60 nationalities represented at the main Sunday Mass. The church's first cancelled event due to coronavirus was its St Patrick's Day parade, Mass and social gathering, scheduled for 17 March - usually an important event in the church's calendar. Two days later, the English-speaking Catholic community began broadcasting Morning Prayer for an hour every day, Night Prayer at 21:00 daily and streamed and recorded on Facebook. The number of viewers during the week varied from 12-35, with many more viewing the recordings afterwards. Sunday live broadcasts drew between 100 and 350, again with many more viewing later. This pattern continues with the church's current Sunday Masses.
All services during Holy Week (the church's most important week of the year) were broadcast in a reduced format. Participants were invited to make a "sacred space" in their own homes and gather there to join in the online celebrations. Easter Sunday Mass was also broadcast, as was Mass for seven weeks from Palm Sunday to Pentecost from a temporary chapel in the convent of St Alphonse. When the weather was good, Mass was broadcast from the convent garden.
Moreover, parish meetings have been conducted via Zoom, as has the children's Sunday school and the Christian Meditation group also meets via Zoom. However, the annual end-of-school-year outdoor Mass in the archbishop's garden was cancelled. Fr Ed Hone has also been doing pastoral counselling for individuals and couples online and reaching out by phone to vulnerable people, for example doing shopping for those who cannot leave their homes.
Since public Masses resumed, people have been returning to the church, which has a welcoming team to disinfect chairs and implement the necessary safety procedures. Attendees must disinfect their hands upon arrival and wear masks unless a distance of more than two metres can be respected; families can sit together, but otherwise people are apart. Ministers giving communion and altar servers also disinfect their hands and wear masks and gloves. Singing is allowed but the customary Sign of Peace or joining hands during the Our Father are not permitted. Baskets cannot be passed from hand for the collection, so the collection is taken at the doors of the church as people are leaving. With physical distancing, the church can accommodate a maximum of around 170 people. The church continues to broadcast the 11:30 Mass on Sundays, with people tuning in around the world, although tea and coffee can no longer be served after the service.
Fr Ed Hone commented: "This has been a most challenging time for our community: for many, Sunday Mass together is the highlight of the week, connecting with each other and praying and singing together". He also stressed that church finances have been challenged by the absence of collections for three months, stating: "We watch and wait to see how things will develop here in Luxembourg, but it seems like it will be many months before normal church life will resume". He added that "[o]nline worship is fine, but not the same; I think during lockdown the fact that it took place every day was a sign that we were still in business, that we were reaching out and supporting people. I received many messages of appreciation, showing it was truly worthwhile".
Oasis Church of God
Pastor Pietro Colaci explained that the Oasis Church of God has also continued its weekly Sunday services via online streaming (YouTube). The church encouraged people within its small groups and interest groups to use Zoom and WebEx in order to stay connected. Sunday School is split according to age groups (0-16 years old) and each group had their own Zoom sessions either before or after the services, whilst the Young Adults group met daily online for Bible study and prayer. Bible Study group met before the main Sunday service, the Ladies group met once a week and the church's prayer and intercession team met on Saturdays during the confinement period.
Each Sunday service averaged 100 live connections. On average, there were ten connections to the Young Adults group on Zoom, between 40-70 Zoom connections for the weekly Bible study before the main Sunday service and 10-15 Zoom connections to both the Ladies group and the prayer and intercessory group.
Since the easing of restrictions, the church began by streaming live from its building with only the Worship (music), sound and media teams physically in attendance. Following the rules of the government, and in order to maintain physical distancing, the building was then opened up to a maximum 120 people - before the lockdown, there had been between 250 and 290 people in regular attendance. The church did this for two weeks and for a total of four weeks, it alternated registrations with group A and B, like in schools. The church then opened up for three groups of Sunday School for a couple of weeks and it currently has four Sunday School groups physically meeting together whilst the main Sunday service is going on.
Concerning communion, the Oasis Church of God have offered this once since lockdown restrictions were lifted, with participants required to wear masks and maintain physical distancing rules, which apply at all times. Once seated, the wearing of masks is recommended, but is not mandatory given that the physical distancing is maintained for the seating arrangements. Hand sanitisers are also placed at the entrance to the building and ushers make sure that everyone sanitises their hands upon arrival.
Despite the gradual return to in-person services, the church continues to stream on YouTube and organises a lot of activities on Zoom or Webex. Regarding how the church community has responded to the changes, Pastor Pietro Colaci said that a lot more people have been getting in touch online than before: "Some people are still concerned about the situation and this is why people are slowly returning to the church building".
He concluded: "Oasis Church Luxembourg continues to thrive even though we cannot all be together physically. COVID-19 can never stop church, because church are the people, not the building nor even its activity agendas. True church continues in new and exciting ways of worshipping together and reaching out to each other, even with people who live across the other side of the world, as we adapt and grow, through the means of modern technology until physical fellowship is again possible. The opportunities to meet online have been extremely valuable. Our building was closed for some time, but the church definitely remained open and our faith in God has sustained us throughout the crisis".
In summary, church life is slowly returning to pre-pandemic times as Luxembourg gradually eases its restrictions. Nevertheless, churches have continued to make use of online tools even after lockdown, all the while ensuring the continuity over their services during this unprecedented context.