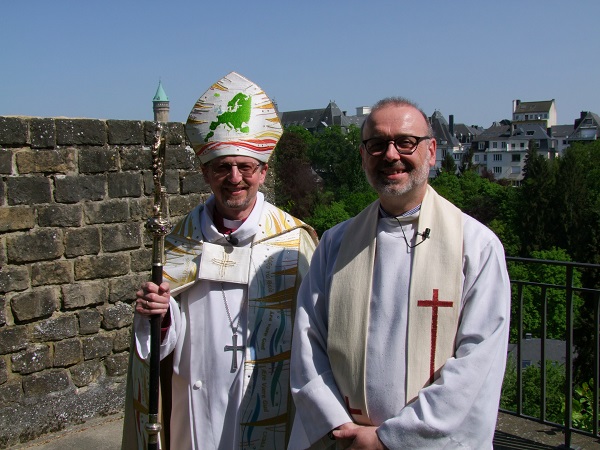 (L-R): Bishop Cr Robert Innes; Rev'd Geoff Read;
On Saturday 5 May 2018, the Anglican Church in Luxembourg held a special service at the Konvikt Centre on Avenue Marie-Thérèse in Luxembourg-ville, with a number of visiting clergy and special guests turning out in force for the licencing of Rev'f Geoff Read at the new Chaplain of the Church in the Grand Duchy.
Having been married in the the Anglican Church in Luxembourg at the Konvikt Centre in 1985 to his wife Marie-Louise who came from Bitburg in Germany, the Anglican Church "welcomed back" Rev'd Geoff Read, who was appointed to succeed Rev'd Chris Lyon who retired last year. Rev'd Geoff Read moved to Luxembourg a number of weeks ago and started taking services from mid-March, prior to Saturday's official licencing service.
The service was led by the Right Reverend Dr Robert Innes, the Bishop of Gibraltar in Europe, who was assisted by the Archdeacon of North-West Europe, the Venerable Paul Vrolijk. Also attending were Leo Wagener, the Vicar-General of the Catholic Archdiocese of Luxembourg, Abbé Jean Ehret, Director of the Luxembourg School of Religion and Society, Panagiotis Moschonas, Episcopal Vicar of the Orthodox Church in Luxembourg, the Venerable Annette Cooper, Archdeacon of Colchester, and Theo Péporté, President of the Council of Churches.
His Excellency Mr Peadar Carpenter, Ambassador of Ireland, and Kristi Roberts, Deputy Chief of Mission at the United States Embassy, also attended, as did Paul Lesch, Chamberlain in service to HRH the Grand Duke, as well as a number of guests representing various sectors of society in Luxembourg, including Joanna Denton, Chair of the British Chamber of Commerce, and Dr Christian Barkei, Director of St George's International School.
The service took the form of a Eucharist, with Bishop Robert Innes preaching. It also saw the two churchwardens, Simon Norcross and Philippa Seymour, participate in the service, as did a number of members of the congregation of the Anglican Church who presented offerings water for baptism, oil for healing, a bible, a lighted candle, bread and wine, a symbol of music, a symbol of ministry with young people, a symbol for the local community and a symbol of ecumenism.
With the bright sunshine streaming in through the stained glass windows of the chapel, and the music of the choir directed by Ovidiu Dragan, with Alan Carlisle playing the organ, and a packed congregation, the service was a joyous occasion for all concerned.
The religious service was followed by a crémant reception in the Hotel Parc Belle Vue.
About Rev's Geoff Read
Geoff is British and Marie-Louise comes from Bitburg in Germany. They met in Bristol and married in the Konvikt Chapel, Luxembourg in 1985. They have two daughters (Rebecca, married and living in London and Katya, studying in Köln) and are enjoying being back on the Continent.
Geoff originally studied law. He came to faith at University and was encouraged to consider ordained ministry. After two years living in Germany he studied theology at Wycliffe Hall, Oxford. Ordained 1985/1986, he was a curate, Team Vicar and Team Rector in the Guildford Diocese (UK) before moving in 1998 to the Diocese in Europe. He was Chaplain of Freiburg-in-Breisgau in Germany from 1998 to 2000 and Chaplain of Basel in Switzerland from 1998 to 2013. From 2013 to 2018 he worked in the Diocese of Chelmsford in England with responsibility for clergy development.
Geoff's areas of interest include clergy development and wellbeing, clergy consultancy, coaching and review and working collaboratively in local church mission and ministry. ​