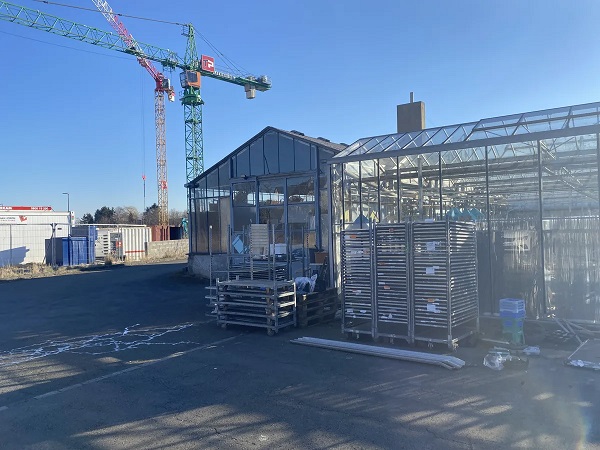 Fleurs JP Breininger garden centre in Dudelange; Credit: BPI Real Estate / ION
BPI Real Estate Luxembourg and ION have announced that they will soon join forces to redevelop the 10,000m2 "Fleurs JP Breininger" garden centre in Dudelange into a new mixed-use project.
BPI Real Estate Luxembourg will take over the retail site from the Breininger family to redevelop it into an environment to live, shop and work as part of a project they are carrying out together with the real estate developer ION Luxembourg. The mixed project is a response to the population growth seen in the region and the associated demand for qualitative and energy-friendly housing.
The Fleurs JP Breininger garden centre can be found on the edge of Dudelange, close to the exit of the A13. According to the developers, its proximity to the motorways, railway station and many different facilities gives the site all the assets to make it a successful new environment. The entire project will represent a gross floor area of approximately 10,000m2.
"The introduction of the PAP Nouveau Quartier approval procedure will be launched as soon as the PAG of the Commune of Dudelange is executable and the start of sales is hoped for 2024. With a mix of living and working spaces, we offer a good response to current needs by providing qualitative housing that is in high demand in the region", explained Sebastien Labis, Head of Development BPI Real Estate Luxembourg.
BPI Real Estate has been operating in the Grand Duchy for 30 years, creating quality projects and knows the local real estate market. For this new project in Dudelange, it is joining forces with ION Luxembourg, the subsidiary of the homonymous Belgian project developer. The choice for a 50/50 joint venture was not accidental. ION has built up a solid reputation in recent years and is already leading several large and medium sized mixed projects in Belgium, such as the redevelopment of the well-known Boerentoren Art Deco monument in Antwerp and the Panquinsite in Tervuren, near Brussels. This is not the first time ION worked with the CFE group (of which BPI Real Estate is a part). Through the redevelopment of the Monteco site in Brussels, a collaboration with Wood Shapers was concluded, creating the first high rise with a wooden structure in the Belgian capital.