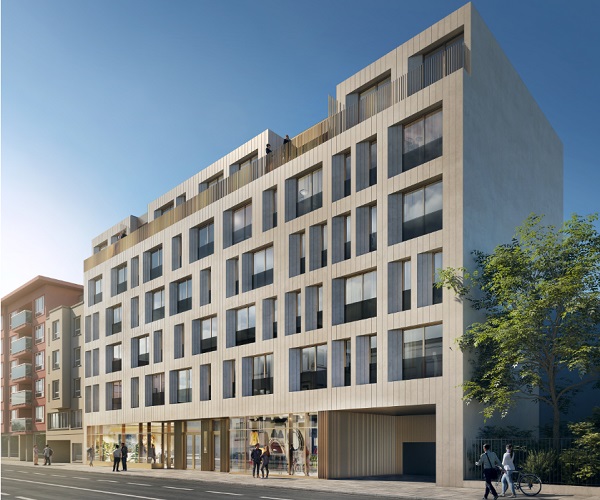 Shades project in Hollerich; Credit: Eaglestone
Eaglestone has announced the finalisation of the sale of two real estate projects in Luxembourg-Hollerich and Bonnevoie to a Belgian investor.
The Belgian promoter-investor Eaglestone, which has been present in Luxembourg for four years, today confirmed the finalised sale of the Shades & New Worker buildings. The development of these projects, acquired by Eaglestone in 2017 and 2018 respectively, is set for 2021. Both will be designed by renowned architects such as the architectural firms Moreno and Ballinipitt.
These developments aim to contribute to the profound transformation of the districts of Hollerich and Bonnevoie in the Luxembourg capital.
Nicolas Orts, shareholder at the Eaglestone Group, commented: "The sale of Shades and New Yorker to the same Belgian investor illustrates the desire of foreign investors to acquire premium residential projects in Luxembourg which, thanks to its good economic and political health, is a guarantee of stability".
This marks the first acquisition in Luxembourg of the investor in question, whose identity remains confidential.
Xavier Hauboldt, CEO of Eaglestone Luxembourg, added: "The context of low interest rates benefits real estate as an investment offering attractive returns for assets located in relevant locations and in development".
Shades will be located at 75-79, Rue de Hollerich L–1741 Luxembourg and boasts a residential area of 2,566 m² and a commercial space of 664m². Moreno will be in charge of architecture, whilst TP Bau will be in charge of construction.
New Yorker will be located at 86-88, Rue du Dernier Sol L–2543 Luxembourg. The site encompasses 2,500 m² of residential space to be turned into some 30 housing units. The Urbanistes Ballinipitt firm is in charge of architecture, whilst TP BAU is responsible for construction.