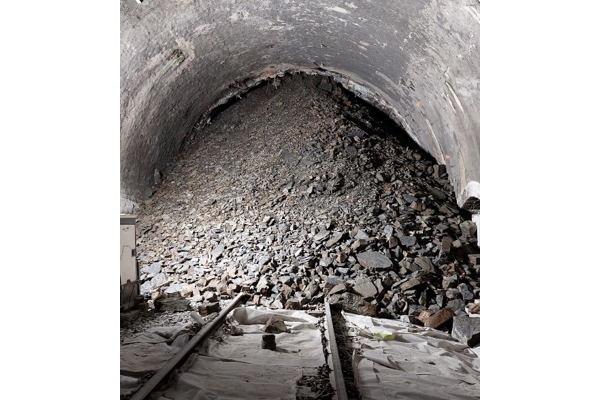 Schieburg tunnel rockslide; Credit: CFL
The CFL has confirmed that the repair work of the Schieburg tunnel - located between Kautenbach and Clervaux - is progressing according to the original schedule, and is expected to reopen at the end of the Easter holidays 2023.
Site installation and preparatory work carried out
The planned reopening presented in November 2022 therefore remains on schedule. Preparatory work has been carried out as planned, in particular the establishment of road access to the southern part of the Schieburg tunnel allowing the delivery and movement of technical equipment as well as the evacuation of scree in the future. The analyses and investigative work to assess the stability and location of the rock mass at the origin of the rockslide have been finalised. To this end, 12 boreholes with a length of up to 75 metres were drilled (50 are scheduled to be drilled).
At the same time, the necessary authorisation requests have been submitted to the various private and public stakeholders concerned to allow, among other things, the preparation of the various work areas located outside the Schieburg tunnel and from which the stabilisation works injection of clay balls and concrete grout will be carried out.
Inside the tunnel, stabilisation work has also already begun. Thus the stabilisation of the scree on the tracks as well as the stabilsation of the vault of the tunnel in the weakened part were carried out.
Continuation of alternative measures
Pending the reopening of the tunnel, the substitution bus remains valid for customers using the Clervaux – Kautenbach rail section currently closed to traffic. Information on the precise routes of the substitute bus services is available on www.cfl.lu, on the CFL mobile application, on www.mobiliteit.lu and on the mobiliteit.lu application.