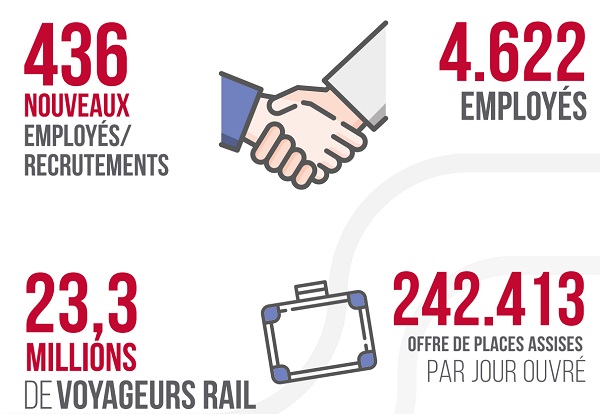 Annual report; Credit: CFL Group
Luxembourg's railways, the CFL, closed the year 2018 with a net profit of €10 million, identical to that of the 2017 financial year.
Presented in its annual financial report, the consolidated net profit of the CFL Group has therefore remained profitable for the fifth consecutive year.
More specifically, net sales rose by €882.8 million in 2017 to €892.5 million in 2018 - since the 2009 financial year, net sales have thus increased by 52%. Overall, this result reflects the good performance of the CFL Group and confirms the soundness of its development strategy for the various businesses.
Indeed, 2018 saw the Group succeed in developing customer confidence by transporting a total of 23.3 million passengers (compared with 22.9 million in 2017).
In line with its strategic orientation, the CFL Group also resolutely continued its ambitious investment programme in the interest of the modernisation and extension of the railway network and rail equipment and materials in 2018. In particular, the funicular of the new Pfaffenthal-Kirchberg railway station, inaugurated on 10 December 2017, had attracted over 1.5 million customers by 31 December 2018. For its part, the Howald terminal station, which will be part of the future interchange centre and the first phase of which was inaugurated on the same day as the Pfaffenthal-Kirchberg project, has welcomed more than 200,000 clients since its opening.
Among other strategic developments of the Group, one highlight over the past year was the carsharing Flex service, launched on 20 February 2018. The service boasted 30 stations across Luxembourg and more than 1.000 subscribers at the end of 2018. Another milestone, this time regarding passenger transport activity, was the agreement made at the end of 2018 following a European bid for a major contract for the acquisition of 34 (self-propelled) railcars, the delivery of which is scheduled between the end of 2021 and 2024.
Meanwhile, in the freight sector, the Group pursued its development objective internationally. With a positive result in conventional freight for the fifth year in a row and a significant improvement in the combined freight result, the CFL Group continued to offer tailor-made, high value-added services, covering the entire supply chain. Thanks to its freight activities, the CFL Group is positioning itself more and more as a key player in Europe and beyond.
Finally, 2018 saw the Group recruit 436 new employees, bringing the total to 4,622.