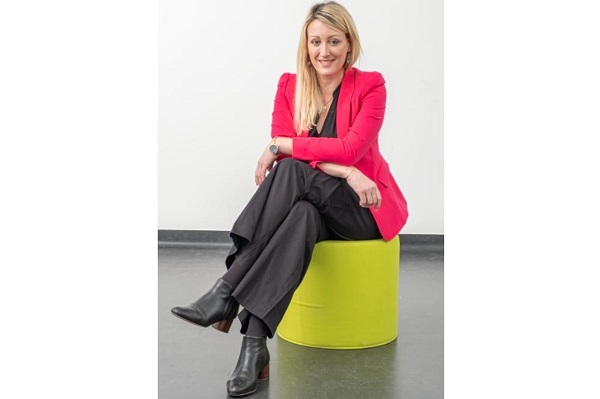 Jessy Medinger, Director of EIGT; Credit: EIGT
Chronicle.lu recently had the opportunity to speak with Jessy Medinger, Director of École internationale Gaston Thorn (EIGT), about Luxembourg's newest European-accredited school.
EIGT, the Grand Duchy's sixth European public school, opened its doors in Luxembourg City at the start of the 2022/23 academic year. Since then, as Jessy Medinger confirmed to Chronicle.lu, demand has been high. Registration for the new school year is currently open until 18 March 2023 (further information: https://www.eigt.lu/).
Chronicle.lu: Has there been a lot of demand since the school opened? How many pupils are currently enrolled (primary and secondary) at EIGT?
Jessy Medinger: The demand has been overwhelming since we opened in September 2022. Especially in primary, the enrolment requests exceed our capacity by far. Currently, there are 141 students in primary and 195 in secondary.
Chronicle.lu: When do registrations open for the new school year? What is the school's capacity?
Jessy Medinger: Registrations for September 2023 opened on 1 March. We will open three classes in primary and five in secondary.
Chronicle.lu: Please tell us more about the different language sections offered at EIGT.
Jessy Medinger: The EIGT follows the curriculum and pedagogical approach of the European schools, disregarding the language sections. Teachers prepare harmonised courses and use similar material in order to ensure that all our students reach the same objectives. Classes are mainly taught in the language of the section, except for second language (L2) and third language (L3) classes. It is important to know that from third year of secondary on, human sciences will be taught in the student's chosen second language.
Chronicle.lu: Approximately how many pupils are in each section? Do they learn other languages in addition to their main section language?
Jessy Medinger: There are fewer students in the German section, whereas the English and French section are highly popular. Students all learn a second language, which we call L2. They can choose between German, French and English. As a L3 we offer German, French, English as well as Portuguese, Italian and Spanish. All our students learn Luxembourgish from first year of primary to third year of secondary.
Chronicle.lu: Have the teaching staff come from the Luxembourgish public school system or from other international/European schools in Luxembourg?
Jessy Medinger: Our teachers come from all different types of public and private schools. Some of them from other national or international schools in Luxembourg, others come from abroad and have settled here before September last year. They are all native speakers and highly qualified as we ask for at least a Master's degree in their subject in addition to their teacher training and five years of work experience. Primary teachers need a Bachelor's degree but also five years of work experience.
According to the Luxembourgish law, they then have to pass a national teacher training which ensures that they are not only pedagogical experts, but that they are also informed about the legal framework of our education system. In addition to this, the EIGT offers continued teacher training in order to guarantee our staff's professional development and expertise.
Chronicle.lu: Where are your premises located and does the school have its own facilities or also share some facilities with other schools, e.g. in Campus Geesseknäppchen?
Jessy Medinger: EIGT primary school is located in Cessange and will soon open a new building in Bonnevoie. After school, our students in primary are in the care of the foyer scolaire of the City of Luxembourg, in the same building. Our secondary is in Merl at the heart of the Campus Geesseknäppchen. At the moment, we share the building with another school, which will gradually be relocated in the near future. We are planning future buildings throughout the city to further guarantee the expansion of the school while maintaining the student number per building at a reasonable limit in the interest of the school atmosphere.
Chronicle.lu: How did the recent primary school open day (on 4 February) go? Was there a lot of interest? Any other events coming up?
Jessy Medinger: Both open days in primary and secondary were an immense success, drawing hundreds of visitors to our schools. Our team presented the school's departments and different projects to interested families as well as candidates for open teaching positions. We also offer information sessions for teachers in the City of Luxembourg, as they advise students and parents on secondary school choices. In general, we get many requests from international and national officials, schools and foyers scolaires for group visits, which we are very happy to accommodate. Our school will also be represented at the YEP Schoulfoire in April, which is a great opportunity for families to get an overview of the educational offer in Luxembourg and to see how the public European system fits into the network of national schools.
Chronicle.lu: In your opinion, what is the importance of this new European school and how might this reflect an increasingly international education system/society in Luxembourg?
Jessy Medinger: The public European schools present an equal opportunity to our youngest population. Students with other languages than Luxembourgish or German get access to knowledge to acquire and develop skills and competences without the obstacle of having to learn yet another language first. Being a resident of the City of Luxembourg, I am very well aware of the fact that most of us are not only Luxembourgish, but bring with us a register of many different languages and cultures. Being able to choose a language section empowers and validates children in their cultural identity while simultaneously creating and maintaining a strong bond with Luxembourgish society, language and traditions. The EIGT emphasises the importance of our Luxembourgish and European values by embracing difference and celebrating variety.