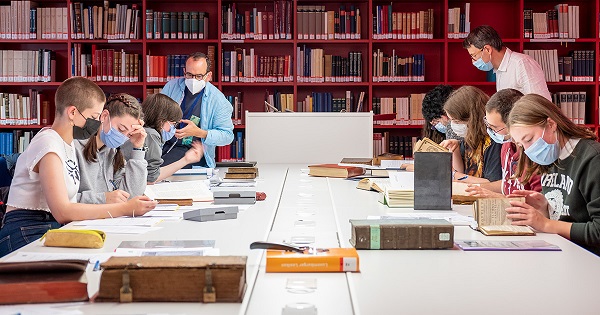 Christophe Marinheiro & Thomas Falmagne with pupils at the BnL Summer School 2021; Credit: BnL
The National Library of Luxembourg (BnL) has confirmed that, from 2 - 6 August 2021, the BnL Summer School initiative took place, aimed at learning through workshops and practical work the different tasks of future librarians, archivists and documentalists.
A total of 14 secondary school pupils completed the BnL Summer School and were rewarded with a certificate of participation that they can use in their future professional endeavours. The study programme was very varied: the courses offered covered in particular the acquisition and cataloguing of documents, the operation of the reading room and logistics within the BnL, as well as the acquisition of digital publications or the preservation and digitisation of Luxembourg heritage.
During one week, the participants not only saw in practice the functioning of the BnL, the complexity and the diversity of the professions in the fields of librarianship, archives and documentation, but they also discovered the multiple BnL missions as well as the day-to-day challenges that libraries face in the digital age. In addition, the BnL Summer School offered them the unique possibility of meeting and exchanging with peers and future colleagues as well as with experts from the BnL. Entertainment was also part of the game with common activities.
Given the great success of the first edition of the BnL Summer School, this training programme will now be an integral part of the educational offer of the National Library.