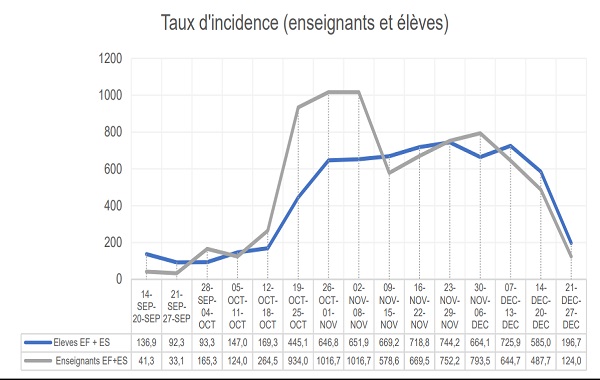 Weekly incidence rate per 100,000 teachers and students; Credit: MENEJ
Luxembourg's Ministry of National Education, Children and Youth has published an overview of the COVID-19 situation in Luxembourg schools for the period from 15 September to 27 December 2020.
The report provides a detailed analysis of the evolution of positive cases among students and staff in public and private schools that apply national curricula. It was drawn up on the basis of figures made available by the Health Inspectorate and validated by the steering committee (COPIL) set up by the Ministry of Health and the Ministry of National Education, Children and of Youth within the framework of the national education health system.
Two main observations stood out:
- the trend in the number of positive cases among the school population remained parallel to the trend in the overall population in Luxembourg. The report covering the entire first school term 2020/21 confirmed the findings mentioned in the report of 12 November 2020 (which covered the first six weeks of term)
- factors external to the school environment , such as the socio-economic context, age or geographical distribution have had a significant impact on the number of positive cases in schools.
Analysis of the distribution of positive cases over the four scenarios defined in the health system allowed the ministry to conclude that it remains an effective model for slowing the intra-school transmission of the virus. The strong predominance of scenario 1 showed that in the majority of cases (85% in primary and 78% in secondary education), the virus had not spread inside the school thanks to the protective measures put in place. In 15% to 22% of cases, an infection inside the school environment seemed likely.
The significant increase in the number of positive cases in the general population from October 2020 has put the national education system up against considerable organisational challenges - challenges which those working in schools have faced daily while ensuring the continuity of learning for the benefit of all students. Although the incidence rate in the general population and the school population has been declining for several weeks, the Education Ministry assured that it is monitoring the situation vigilantly and will continue its efforts to protect the whole school community.