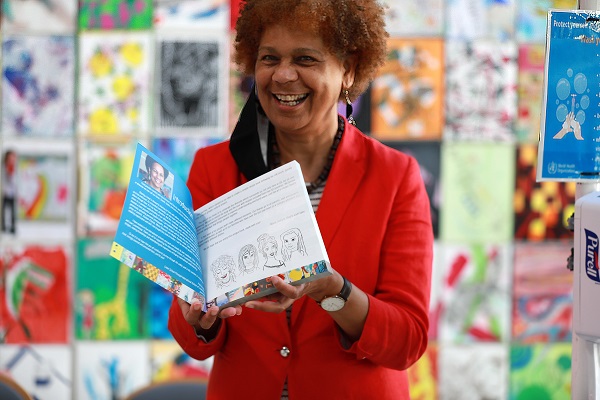 Patricia Angoy with ISL Cultural Cookbook; Credit: ISL
The International School of Luxembourg (ISL) has announced that Patricia Angoy, Lower School Principal and Acting Director at ISL, will leave the school at the end of this school year.
After ten years at ISL, Patricia Angoy has decided to take up a new challenge and accepted the position of Principal at Waterford Kamhlaba United World College of Southern Africa (UWCSA).
In a statement announcing her departure, ISL described Patricia Angoy as a dedicated, visionary and passionate principal. Since her arrival at the school in August 2010, she has led and inspired teachers to encourage a 'culture of thinking' in the Lower School which has formed the bedrock of teaching and learning for younger students. She also transformed the new Lower School building into a hub of visible thinking and inquiry, and encouraged both staff and students to be committed to social change and to live ISL's new mission and values. The school went on to describe her as having been instrumental in ISL becoming the first school to sign up to the Diversity Charter in Luxembourg and to promoting the importance of diversity in the community. She also became part of the global 'Women of Influence' education group helping to ensure that social change supports more women leaders in the world of international education. In recent weeks, Patricia Angoy took over as Acting Director.
Nicki Crush, ISL Director, commented: "Patricia is a woman with the highest principles and beliefs. She is loyal, extremely discreet, full of ideas and is extraordinarily hard working. We will miss her greatly and I feel truly privileged to have been her colleague and to have worked with her for the past ten years".
In honour of Patricia Angoy's contribution to the school, the ISL organised last Thursday a small farewell ceremony, during which it unveiled a 'Reflection Garden', a peaceful space where students and staff can sit to think and reflect, surrounded by nature. The garden consists of a tree, planted earlier this year, a bench and hundreds of stones painted by students. In front of a small audience, Ms Angoy also received the first copy of the brand new 'ISL Cultural Cookbook', which includes 90 recipes from 59 countries and was created from recipes, photos, drawings and stories provided by ISL parents, staff and students.