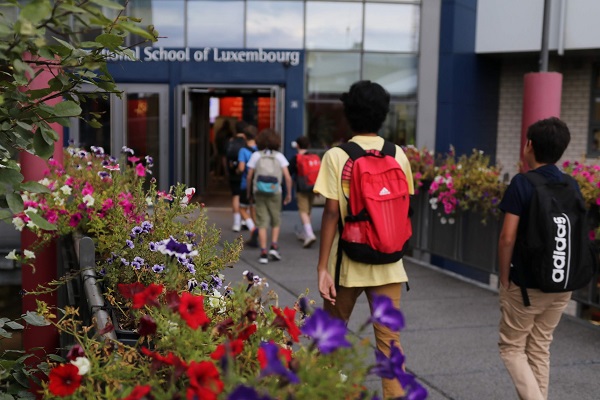 Credit: Christian Simon / ISL
In light of nationwide school closures, various schools in Luxembourg have turned to alternative teaching methods to maintain learning during the coronavirus crisis.
Among the schools opting for virtual teaching and remote learning are the International School of Luxembourg (ISL) and St George's International School.
International School of Luxembourg
In a statement released on Thursday 12 March, the ISL confirmed that classes would go ahead as usual on Friday 13 March 2020. However, the school announced that it would begin the phased implementation of virtual learning on Monday 16 March, with classes being held in this format from Wednesday 18 March until 29 March 2020 inclusive. The provisional virtual learning schedule is aimed at promoting continuity of the curriculum during the temporary school closure.
Although the ISL noted that, in principle, normal classes will resume on 30 March 2020, the school recalled that the situation will be re-evaluated by the Ministry of Health and the back-to-school date may change according to the evolution of the situation. The ISL added that professional support staff would remain available during the school closure.
St George's International School
Similarly, St George's International School in Luxembourg-Hamm confirmed on Friday that no classes or extra-curricular activities would take place from 16 to 29 March 2020 inclusive. The school's management confirmed that teachers had already provided their students with "online access to lessons and activities which broadly mirror our curriculum content and pace". The school added that these "lessons can be attended remotely from home".
During the school closure, St George's will operate with an essential staff of administration personnel present. Work is arranged according to a rota so that "all staff can support their own children and families during this time". In addition, the school confirmed that teachers and Teaching Assistants may work from home and that the school community will be "updated of further developments". Similarly, the school will continue to communicate with the parent community during this time directly and keep them informed on a regular basis.
The temporary closure of schools in Luxembourg, a measure taken by the government in light of the coronavirus pandemic, affects the following educational establishments across the country: primary schools; secondary schools; professional schools; all classes at the National Institute of Languages (INL) and all adult learning classes; all music classes; all boarding facilities; creches and other childcare facilities. These measures are in place from 16 to 29 March 2020, although the period could be extended depending on how the crisis evolves.