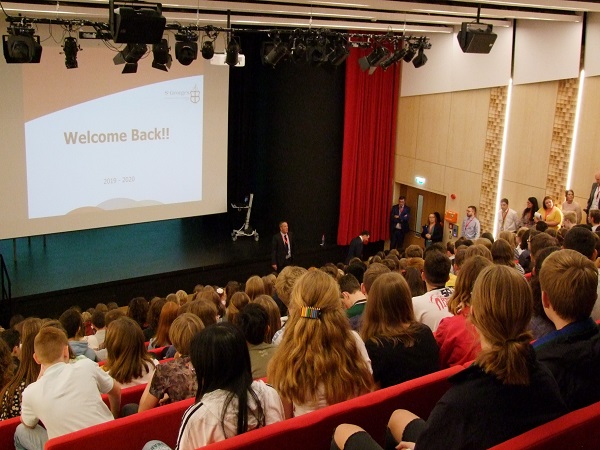 St George's secondary school assembly on first day back; Credit: Jazmin Campbell
Today, Wednesday 4 September, St Georges' International School Luxembourg opened its doors to its 800 students for the first day back to school.
Both primary and secondary school students returned to St George's this morning for the start of the 2019-20 academic year. They were 800 in total, not including another 20 expected to join the school mid-September. Some 514 of these students are in primary school (ages 3-10 from nursery up to Year 6), whilst the remaining 306 follow the secondary school curriculum (students aged 11-18 from Year 7 through to Year 13). By the end of the year, the school expects to have around 840 students in total, up from the 807 students (530 in primary and 277 in secondary) enrolled for the 2018-19 academic year.
The first day back began with an assembly, first for primary school and then for secondary school students. The younger pupils were all smiles as they entered the school's auditorium to some jazzy music, accompanied by their teachers. Once everyone was seated, Mrs Claire Nuttall, Primary Head Teacher/Vice-Principal, gave a speech, welcoming the students back and encouraging them to interact through questions about their summer holidays and the school's values. She then showed a video of a young Sikh girl who has faced discrimination due to her religion; building on the video's message, Mrs Nuttall concluded by asking St George's pupils to continue "being kind and including everybody" this coming school year (and in the years to come).
The school's 306 secondary level students were next to fill the auditorium's seats, as Secondary Head Teacher/Vice-Principal Mr Mark Fleet gave his welcome speech. Mr Fleet detailed changes to the student body (which includes its biggest Year 7 yet), as well as changes to the staff team's structure and the addition of new staff members (bringing the total to 48).
Indeed, St George's secondary school received another set of excellent results in I/GCSE, A/S and A-Level exams at the end of summer: 43% of A-level examinations were graded A* or A and 90% of students were achieved a grade C or above. The school's students achieved a 100% pass rate with 19% of entries achieving the highest grade possible, an A*, 11% higher than the UK average. Similarly, 66% of A/S-level examinations were graded A or B and 84% of examination papers achieved a grade C or above, 3% higher than the previous year. 49% of St George's students achieved a grade A, 27.5% higher than the UK average.
Moreover, students sat a total of 329 I/GCSE examinations in 17 different subjects; 95% of students achieved grades A* to C,, whilst 46% of all examination papers were graded A* or A. 94% of St George's students achieved at least five grades from A* to C, 2% higher than last year. These students will now progress on to the next school year (Year 12) where they will study their chosen A/S-level subjects.
Commenting on St George's in general, School Principal Dr Christian Barkei highlighted the school's strong focus on the human dimension, rather than just the facilities it offers. He added that the school aims to offer "support, encouragement and good positive challenge[s]". Indeed, classes are generally small to allow greater focus on the student as an individual.
St George's International School is an inclusive international community of over 800 students aged 3 to 18+ years, representing 60 different nationalities. The school follows the National Curriculum of England and Wales and as such, offers students an English-speaking international education.