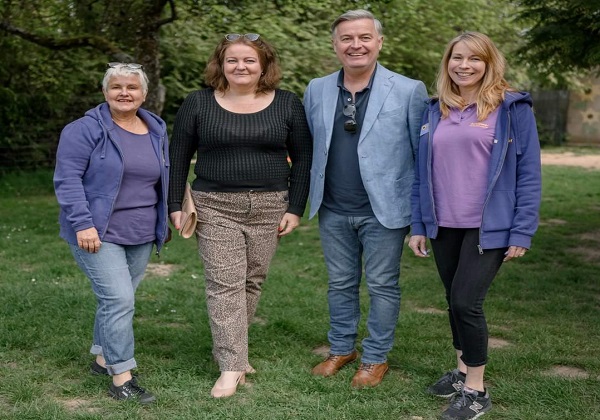 L-R: Helen Clark, Sunflower Co-Founder & Director; Fleur Thomas, British Ambassador to Luxembourg; Tom O'Dea, Sunflower Managing Director; Samantha Stobart-O'Dea, Sunflower Co-Founder & Director; Credit: Tanya Popyk
Sunflower Montessori, Luxembourg's leading Montessori crèche, recently launched a subsidy programme for displaced families from Ukraine; the crèche also organises weekly coffee mornings for Ukrainian mothers and their children.
Following the Russian invasion of Ukraine at the end of February, Sunflower held its first Ukrainian Open House Coffee Morning at one of its childcare structures in Findel on 16 March 2022. Indeed, it was Wendi Roberts, Manager of the Sunflower Montessori Findel Alizeti After School Club, who had the idea of a coffee morning for Ukrainian mothers to meet and network with one another in their own language, make connections and share their experiences. Building on the success of this first edition, which brought together about 100 mothers and children, the crèche decided to make this a weekly event.
Speaking to Chronicle.lu, Samantha Stobart-O'Dea, Co-Founder and Commercial Director at Sunflower Montessori Crèche, explained that the goal was also to allow children an opportunity to play in a safe environment and to get "some normality back in their lives". Whilst the children play in the garden, their mothers have an opportunity to chat and drink tea or coffee and to share information with one another.
The initiative has received support from local businesses such as Home from Home Luxembourg, which donated sweet treats for the coffee mornings, as well as Her Royal Highness the Hereditary Grand Duchess of Luxembourg, Princess Stéphanie, and British Ambassador Fleur Thomas, each having attended one of the coffee mornings (on separate occasions). The latter also informed her Ukrainian counterpart in Brussels about this initiative, as well as the new subsidy programme. In response, Yehor Pyvovarov, Chargé d'Affaires of the Embassy of Ukraine in Brussels, who is also accredited to Luxembourg, wrote a letter thanking Sunflower for their support. Ambassador Fleur Thomas delivered this letter to Sunflower, whose Managing Director Tom O'Dea then read parts of it to the mothers present at the weekly coffee morning.
Whilst grateful for the support received for these initiatives, Samantha Stobart-O'Dea clarified: "None of us do this for that recognition. We do it because we are human beings. I would hope another human being would help me [in such a situation]".
In addition to the weekly coffee mornings, Sunflower Montessori Crèche recently introduced a subsidy programme for displaced Ukrainian families who have temporary protection status in Luxembourg. The management team, made up of Samantha Stobart-O'Dea (co-founder), Tom O'Dea and Helen Clarke (co-founder), came together to find other ways of supporting newly arrived Ukrainian families. Ms Stobart-O'Dea recalled that a lot of the women arriving in the Grand Duchy are "professionals with jobs and lives in Ukraine", but many now find themselves alone with their children in a new place. As such, finding adequate and affordable childcare, to allow them time to do a language course or find a new job, is a challenge for many of these women. The goal of the new subsidy programme is to help them to get on their feet.
Due to the COVID-19 pandemic (with many parents switching to teleworking), Sunflower Montessori had some places available in their crèches which they have now decided to offer to affected Ukrainian families. Part of the cost is covered by the Luxembourg Government's "Chèque-Service Accueil" childcare service voucher scheme, whilst Sunflower covers the remaining costs for an initial six-month period. The subsidy programme covers about 40 places in Sunflower's Findel and Moutfort locations.
"The Luxembourg Government has already decided to pay the full crèche fees up to €6 per hour", Tom O'Dea explained. "However, in the commercial sector, hourly fees are almost always more than this. Sunflower has decided to subsidise this part of the hourly rate. Through a combination of the Government's support through the Cheque Service and Sunflower's subsidy programme, families who have been granted temporary protection status will enjoy childcare entirely free of charge".
Samantha Stobart-O'Dea added that she found it "amazing that some of the families may stay in Luxembourg, bringing wonderful cultural diversity to Luxembourg", which is already known for its international character. These people will bring new skills and lead new lives in the Grand Duchy. "Out of something absolutely terrible, this [could be] a new life for these women", Ms Stobart-O'Dea concluded.