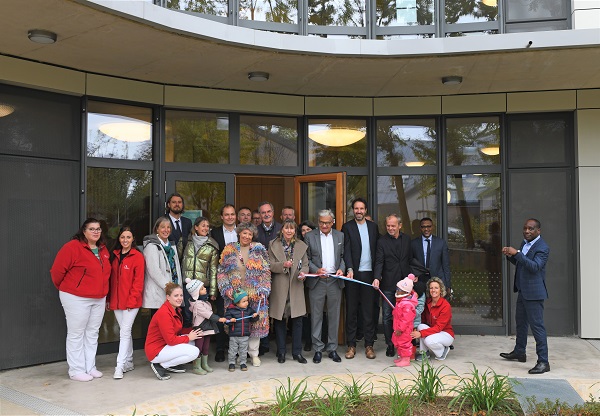 Credit: VdL Photothèque / Marc Betzen
On Wednesday 12 October 2022, the City of Luxembourg (Ville de Luxembourg - VdL) officially inaugurated a new municipal creche in Luxembourg-Bonnevoie.
Located at 9 Rue George C Marshall, this municipal creche can accommodate three groups of up to twelve children under the age of two and another three groups of a maximum of fifteen children aged two to four years.
Ahead of the construction of this new creche, a feasibility study was carried out in November 2014, showing that a new two-storey building was feasible to the north of the existing creche by using the unevenness of the natural terrain, while retaining the existing building which could be transformed and fitted out independently.
One of the priorities of this project was to create a welcoming space for children. Existing trees have been preserved between the two buildings. The topography of the land allows direct level access to the gardens for each of the six groups of children; the reception garden has three vegetable beds available to young gardeners. Moreover, a playground is located at the rear of the building, offering wooden playground equipment, a sand area with a water feature and a bobby car track.
Each group of children is established as an independent and self-sufficient unit with its own living room, sanitary facilities and dormitory (for children under the age of two). This solution is designed to allow staff to organise their work inside each unit without having to go out into the common hallway.
The building, which boasts a total surface area of 1,456.18 m2, has the energy class BBB, with heating supplied by the urban network. Electricity is supplied by connection to the existing station on Rue du Verger. The building is prepared for the future use of solar panels on the roof.
Construction began in May 2017 and concluded in July 2022. The municipal creche has been operational since August 2022.
The estimated total cost of the project is €7,531,689.38 (including fees and taxes).