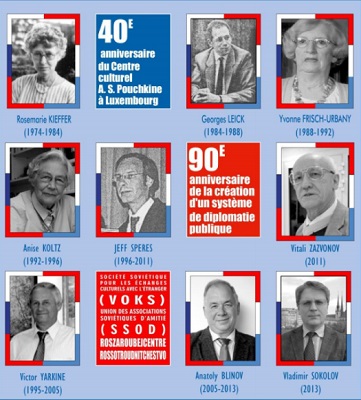 On the occasion of the 90th anniversary of the Federal Agency for the Commonwealth of Independent States, Compatriots Living Abroad and International Humanitarian Cooperation (Rossotrudnichestvo), the Pushkin Culture Centre of Luxembourg will be hosting a a classical concert and an exhibition on Thursday 19 November 2015.
The Pushkin Cultural Centre will itself be celebrating forty years this year, with the anniversary marking an important date for the historical development of public diplomacy between Russia and Luxembourg. Over the years, the Pushkin Centre has striven to promote contact between the two countries, knowledge of the Rzssian language and culture and the exchange of ideas on diverse and wide-ranging questions. It also represented the main meeting point between Luxembourgers and Russians and has significantly contributed to the formation of positive and friendly relations between the two nations.
The Pushkin Centre has featured prominent ledaers from Luxembourg society, including Rosemarie Kieffer, Yvonne Frisch-Urbany and Anise Koltz and in the last year forty years has organised hundreds of concerts, exhibitions, film festivals and conferences, inviting actors in the scientific, cultural and artistic spheres to visit. Most notably, Valentina Tereshkova, a former Russian cosmonaut and the first woman to have flown in space, was received at the centre several times and the centre hosted evenings with Chingiz Aitmatov, the writer and Ambassador of first the Soviet Union then Russia in Luxembourg.
The Centre was thanked by President Mikhail Gorbachev for its engagement in humanitarian and charity work, and has welcomed nearly 4,000 students into its Russian language course in the last forty years, establishing a library with books in Russian, Ukrainian, Belarusian, Georgian and other languages of the former Soviet Union.
The Representation of Rossotrudnichestvo (Russian Centre for Science and Culture), organiser of the anniversary event, is the successor of the Pushkin Centre, created in 2011 under an intergovernmental agreement. As in the past, the Centre organises cultural events, Russian, French and Luxembourgish language courses and other special programmes as a means of strengthening cultural and humanitarian ties between Russia and Luxembourg.
On 19 November 2015, violinist Anastasia Milka and pianist Lioudmila Goldvasser will open the evening with a chamber music concert from 19:00 to 20:00. From 20:00 until 21:30, a documentary exhibition will be open, dedicated to the 40 years of activity of the A.S. Pushkin Centre.
The events will take place at the Russian Centre for Science and Culture at 32, rue Goethe L-1637 Luxembourg. For more information, contact 264 803 22 or centrerusse@pt.lu before 16 November 2015.
Photo by Russian Centre for Science and Culture