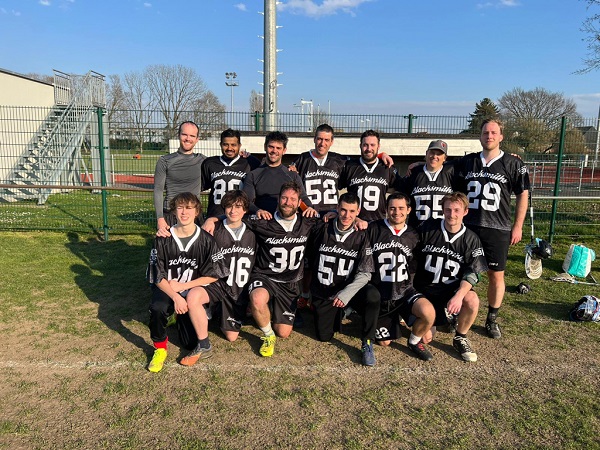 Credit: Luxembourg Lacrosse
Blacksmiths Luxembourg, the men's team of Luxembourg Lacrosse Club, faced league title contender Namur Knights in Oupeye (near Liège) in Belgium on Sunday 20 March 2022 for their final away game before their home game in early April 2022.
After a strong showing with a skeleton crew against Antwerpen Armadillos, the Knights brought their mix of experienced players, physical play and sound team offence.
Luxembourg fielded two new players from its own grass roots programme: #46 Alex von Bommel and #54 Giles Batting saw first action for the Blacksmiths on Sunday. Batting joined the Blacksmiths from the team's longstanding school cooperation with Lycée Guillaume Kroll in Esch-sur-Alzette. A second graduate from that programme, G Lorentz suffered an ankle injury in the final practice and could not compete. #40 M Gérin had seen first action against Antwerpen earlier this month and dressed for his second match.
Namur could rely on a complement of ten players including recently capped Belgium international R Bouchat, Luxembourg fielded a number of returning players including #7 Pit Bingen, who had scored a record number of goals against Antwerpen.
The game began well for Luxembourg, who scored in under one minute with a quick goal from #22 F Coutinho (G2, A0) off an assist of #52 H Coehlo (G0, A2). Namur retaliated shortly thereafter with a goal by #10 R Bouchat (G5, A2). After some possessions on either end, Luxembourg took the lead again to 2-1 with a goal from recent joiner #30 P Hightower (G1, A0), assisted by #7 P Bingen (G2, A2).
This proved the last lead of the game for the Blacksmiths as Namur took off to 4-2 on the back of three quick goals in under 90 seconds. Luxembourg managed to stem the bleeding but could not counter, ending the first quarter 4-2. Namur administrated the lead well, trading goals with the Blacksmiths up to 7-5 almost to the end of the second quarter. A minute before half time, #1 H Merst (G4, A1) scored a crucial goal, giving Namur momentum and a three-goal lead to 8-5.
The third quarter had significant importance, with Luxembourg required to make up for the two and goal margins left open in the quarter before. Namur, however, had different plans and scored three own goals while keeping Luxembourg scoreless until the 56th minute when Bingen could land the first score of half-time off an assist of #19 D Milosavljevic (G1, A1).
The fourth quarter saw the Blacksmiths deliver a barrage of shots in their effort to make for five goal margin. This was met well by the Namur goal keeper who recorded eight of his nineteen saves in the fourth quarter, denying Luxembourg crucial goals.
The game ended 13-8 for Namur who won the first three quarters of the game, led by a seven-point performance from #10 R Bouchat (G5, A2) and five points from #1 H Merst (G4, A1). Luxembourg's top scorer was again #7 P Bingen (G2, A2) with four points, followed by three players with two points (#22 F Coutinho (G2, A0), #52 H Coehlo (G0, A2) and #19 D Milosavljevic (G1, A1). Two Luxembourg players managed rare goals: defender #89 N Haria scored his first career goal for Luxembourg and goalkeeper-turned-midfielder #29 J Spautz (G1, A0) tallied one goal.
Blacksmiths Luxembourg have their next match at home in Luxembourg on 3 April 2022.
Head coach Henning Schmidt commented: "We lost to the better side today, twelve points from two guys and nineteen saves from their keeper – hard to be mad about that. In particular when our new guys do as well as they do and we see the first crop of Luxembourg youth players enter competition, entirely holding their own. Congratulations to the Knights, they deserve this win and we look forward to seeing them again soon. Now for our home match where we look to return to winning ways".
On a separate note, Luxembourg Lacrosse has issued an invite to all Ukrainian refugees to come along to its practices, matches and other events free of charge. For further information, contact the club via its webpage: https://lacrosse.lu/en/, its social media accounts (Instagram and Facebook) or email: schmidt@lacrosse.lu.