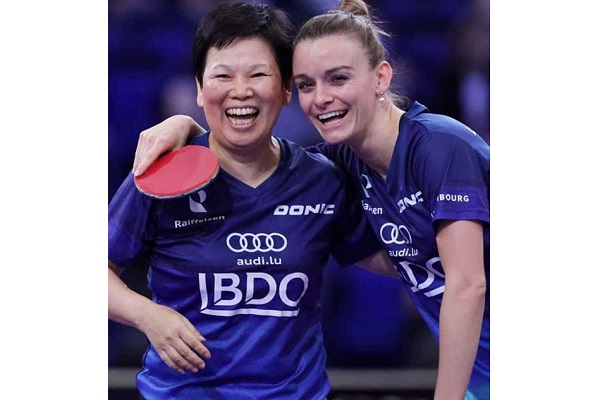 Ni Xia Lian and Sarah De Nutte; Credit: WTT
Luxembourg players Ni Xia Lian and Sarah De Nutte took home bronze after losing to China in the semi-finals of the 2021 World Table Tennis Championships in Houston, USA.
The Luxembourgish team had made it through to the doubles semi-final with a 3:0 win over India in the quarter-finals at the weekend.
Despite losing the semi-final to world no.2 Sun Yingsha and world no.4 Wang Manyu, Ni Xia Lian and Sarah De Nutte secured an historic bronze medal for Luxembourg.
Both the Luxembourg Table Tennis Federation (Fédération Luxembourgeoise de Tennis de Table - FLTT) and Luxembourg's Minister of Sport, Dan Kersch, congratulated Ni Xia Lian and Sarah De Nutte on their achievements at this year's World Table Tennis Championships.
Minister Kersch described their performance as "unprecedented and historic", adding that "the two make the right pair". He concluded by wishing them both "good luck and every success" in the future.