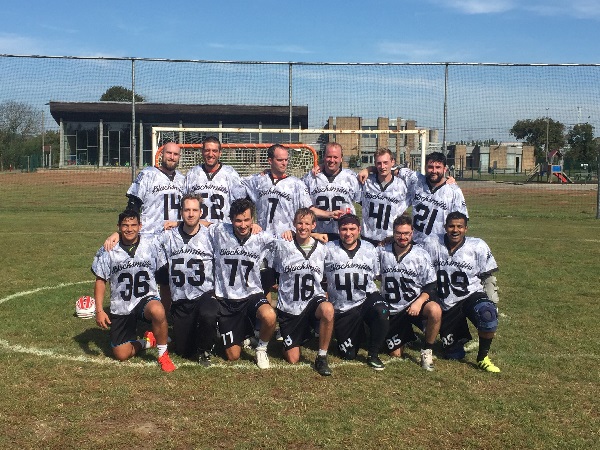 Team photo; Credit: Blacksmiths
The Luxembourg men's lacrosse team, the Blacksmiths, started the 2019/20 Belgian Lacrosse League season on Sunday with a 12:4 loss to local rivals Oupeye Foxes.
The 16-man strong Blacksmiths team, accompanied by coaches Henning Schmidt and Greg Ritts, had lost several players prior to the game: attacker Ryan Widmar moved to the UK, whilst homegrown midfielder Clemens Schusterschitz joined the Brussels Beavers team. Nevertheless, Luxembourg's defence benefitted from the additions of Corey Forbes (from Hillcroft Lacrosse Club, London) and Andrew Robillard who recently moved to Luxembourg from the US.
Their opponents, Belgium's Oupeye Foxes, returned with an experienced team featuring all its top scorers from last season and despite Luxembourg's efforts, the score was 6-0 to the opposition before the Blacksmiths scored their first goal.
Whilst Hugo Coelho, Mario "Sandro" Salvia, Andrew Robillard and Darius Seuchter scored goals for Luxembourg in the second half, the game "remained a narrative of Luxembourg's club side doing many things right and then not rewarding itself with a last successful move", according to the Luxembourg Lacrosse President Pit Bingen. Things were further complicated by the Foxes' goalkeeper who denied the Blacksmiths a number of "usually safe goals".
The reviews have suggested that the team's improvements made over the summer break and additions to the roster have not yet had enough time to build an effective opposition against the Foxes' offensive efficiency.
When asked about the next step for the Blacksmiths, Coach Schmidt said: "We have a big home game on 13 October against Namur Knights and this game gives us confidence that after a few small adjustments we have the potential to do much better and this time also on paper and not only hustle stats".
Pit Bingen added: "We are really focusing on recruitment this year and seeing Sandro score yet again on away ground was amazing. With more growth certain to come in the next years, we are now inviting everyone who would like to try it to come and train and play with us – it really is a lot of fun for everyone".
Those looking to find out more about the Luxembourg Lacrosse Club are invited to join their practices on Friday nights from 19:30 onwards. All ages and levels of experience welcome. For further details, contact Coach Schmidt via e-mail: schmidt@lacrosse.lu or visit http://lacrosse.lu/index.php/join-the-team/.