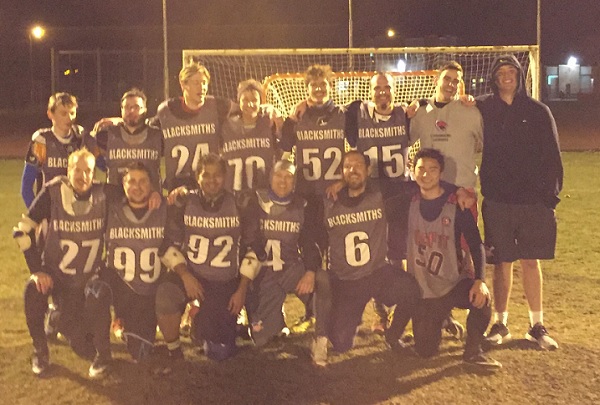 Yesterday, Sunday 18 November 2018, the Blacksmiths (men's team) and the Blacklynx (women's team) from the Luxembourg Lacrosse Club both played matched in the Belgian Lacrosse League.
Freezing conditions under floodlights at the away game at regional opposition Oupeye Foxes saw 15 Blacksmiths - including six players' on debut or on their second game - compete throughout the game. Inexperience and a bit of poor luck meant a 10-3 loss with goals from Pit Bingen and Sandro Alessari who was one of three newly recruited players on the roster delivering strong performances.
Coach Schmidt commented on the game: "The score is not our main take away from this game. It's our first season and bringing 15 players to a winter away game is a huge success in itself. Seeing the hard work of our new players pay off in numerous great individual plays is a great outcome."
The Foxes fielded a 25 player-strong roster indicating some great success in their local development; they took an early 3-1 lead in the first quarter and never looked back, winning every quarter and with a final score of 10-3.
The Blacksmiths struggled to overcome several key players' unavailability. Notably missing were midfield motor Michael Rasmussen (injured), starting goalie Linus Foehr and leading scorer Hugo Coelho. Commenting on the roster changes, Schmidt said: "We played 150% of what we by rights could be expected to deliver, so many guys really stepped up".
Several players moved to different positions to create some sort of balance on the field: Luxembourg Lacrosse president Bingen showed that he can play attack too and the entire defence, including debutant V. Saarinen, had almost no breaks at all. A very strong performance of the three defenders who had never played together kept the Foxes to ten. This was also down to goalie Patrick Audrimont who stepped in last minute and had a great game with numerous good stops, especially in the second half. Jacky Liu picked up a game worth of ground balls in one half as long stick midfielder on defence and then delivered good offensive output. Attacker Cole Ritts managed to scrap out several won face offs with some intense ground ball display.
On the look out for the next games Schmidt commented "Here to stay - we bring complete teams to away games despite significant unavailabilities and compete. That's the message we sent to Namur Knights and Oupeye Foxes, they should not count on easy wins against us".
The team will compete their final 2018 match against Bonheiden Rhinos in Machelen on Sunday, 25 November 2018. The team will face strong opposition, having suffered the worst loss earlier in the season against the Rhinos. "Availability is an issue but we will use the opportunity to keep improving", commented Schmidt, then outlining future plans for growing Lacrosse's footprint in Luxembourg: "We have found several schools prepared to try the best game on two feet in our opinion and are now looking for more volunteer coaches as well players."
Luxemburg Lacrosse looks for volunteers prepared to help run sports classes. "Coaching this game is easy to learn and hard to master. For what we need in working with schools, mastery is not required and we look for anyone with time and interest in coaching sports to join us in diversifying school sports here".