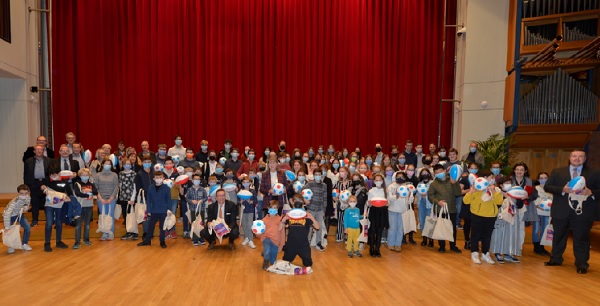 Mayor Lydia Polfer at football presentation to conservatorie students; Credit: Charles Soubry, copyright Phototheque de la Ville de Luxembourg
On Friday 29 October 2021, the Mayor and Aldermen of the Ville de Luxembourg handed out around 250 footballs to the music students of the Conservatoire de la Ville de Luxembourg.
The presentation was made to thank them for their outstanding musical performace on the occasion of the official inauguration of the Stade de Luxembourg, which took place on 25 September 2021 in the presence of His Royal Highness the Grand Duke.
On this occasion, the marching band and the large brass and percussion ensemble of the Conservatoire de la Ville de Luxembourg celebrated the official inauguration before the assembled choirs made the some 2,000 guests vibrate to the rhythm of "Ons Heemecht".
In total, nearly 250 musicians, young and old, contributed to the success of the evening.