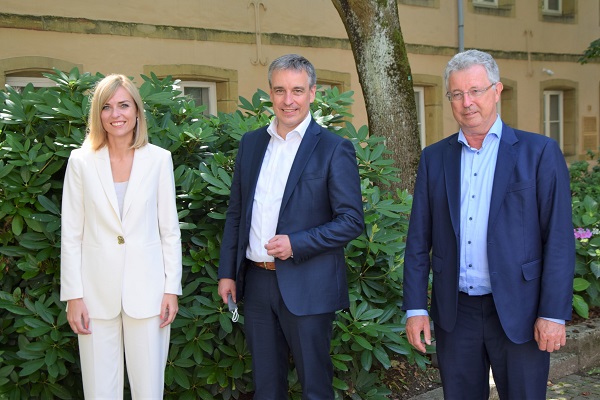 L-R: Taina Bofferding, Minister of the Interior; Claude Meisch, Minister of Education, Children & Youth; Emile Eicher, President of SYVICOL; Credit: MENEJ
On Thursday 22 July 2021, Luxembourg's Minister of Education, Children and Youth, Claude Meisch, and the Minister of the Interior, Taina Bofferding, accompanied by the President of SYVICOL (association of Luxembourg cities and municipalities), Emile Eicher, presented the reform of municipal music education.
Education Minister Claude Meisch emphasisted that this reform is based on the conviction that "music education is an important pillar of our educational landscape, just like schools, childcare facilities or youth centres. Every child and every young person must therefore have the possibility of attending a music school, whether it is to learn music, singing, dancing or the arts of the word".
The reform, which is the result of a broad consultation process with the various partners, is broken down into eight measures, five of which are part of a bill adopted on 16 July 2021 by the Government Council. The others come under the policy pursued by the Education Ministry since it became responsible for music education in December 2018.
These measures relate to:
free music lessons for those under 18;
prices capped at €100 for courses which are not free;
the extension of the criteria for subsidising school fees for less privileged families;
upgrading the career of music education teachers, which will allow a 9.5% increase in salaries;
more transparent and predictable funding supplemented by administrative simplification for municipalities;
a bachelor's degree in music education from September 2021;
a rapprochement between music education and primary education;
increased co-financing of infrastructure.
"So together with the municipalities, we will be able to contribute to the overall development of children and young people, thanks to a quality offer in music education", added Minister Claude Meisch.
Regarding teaching careers, Interior Minister Taina Bofferding noted: "We are delighted with the improvements made to the careers of music instructors, although these have taken a little time. Finding such an agreement reflects the will of the ministries involved to provide high quality music education at all levels, by qualified, passionate and motivated teachers, with a view to the development of the child".
SYVICOL President Emile Eicher welcomed the fact that the reform will promote the organisation of music lessons at the municipal or regional level through increased financial support to the municipalities: "The proximity and free [nature] of lessons are two key elements to allow as many students as possible to discover music and to flourish in this important area of ​​culture". He also welcomed the agreement concluded between the Luxembourg government and the ACEN and FGFC unions on the remuneration of lecturers in music education, which he considers "constitutes recognition of the competence of these teachers and the importance of their work with and for young people".