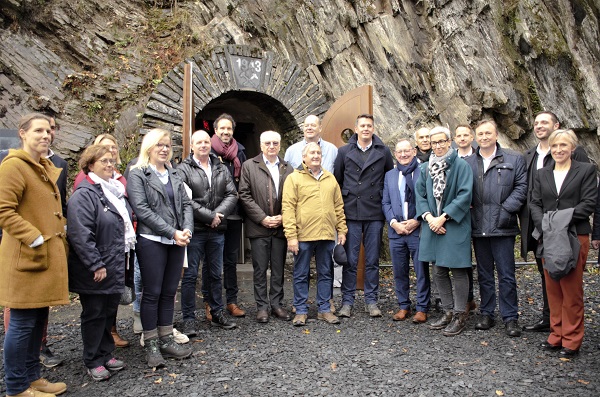 Credit: MCULT
Saturday 15 October 2022 saw the official inauguration of the underground rooms of the "Johanna" gallery of the ancient slate quarries of Haut-Martelange.
The inauguration took place in the presence of Luxembourg's Minister of Culture, Sam Tanson, and the Minister for Tourism, Lex Delles, as well as Marco Schank, President of the Slate Museum (Musée de l'Ardoise Haut-Martelange), and several guests.
Minister Tanson recalled the importance of safeguarding heritage sites such as that of the ancient slate quarries of Haut-Martelange, stressing that "the law on cultural heritage passed at the beginning of 2022 must both guarantee the transmission of these places to future generations and ensure that their use is sustainable". She also recalled the many works carried out to allow this exceptional site to be opened to the public, as well as the works to come in order to make the place even more attractive.
"The new underground route, just like the museum works and upgrades still planned on the site in the future, will certainly contribute to strengthening the tourist attractiveness of the slate quarry site and will also allow, in the medium term, to set an entire region apart", the Culture Minister elaborated. "It is in particular heritage sites such as the old slate quarries that give a face to their territory and which bring, alongside the economic impact, also added value in terms of regional cultural development, and this without remaining confined to national borders". Minister Tanson particularly congratulated the volunteers who have worked for 30 years to enhance the value and attractiveness of the site.
Minister Delles added that the Slate Museum "highlights the potential of remembrance tourism, which aims to highlight industrial heritage and which is among the political priorities of the General Directorate for Tourism". He continued: "This museum stands out through a modern and authentic scenography. Indeed, the new 'Johanna' underground route takes visitors underground to a depth of -42 metres and lets them discover the huge extraction chambers of the old slate quarries of Haut-Martelange with ambient lighting and audiovisual projections. The Slate Museum therefore makes it possible to make more residents and foreign tourists aware of the profession and the life of the Martelange slate makers, which also strengthens tourism in rural areas. It now has a new exceptional tourist attraction that invites you on an unusual underground adventure".
Further information, including opening hours, is available on the museum's website: www.ardoise.lu.