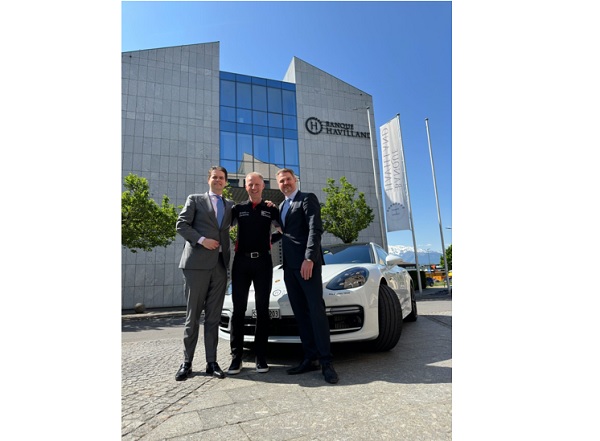 (L-R) Fabian Käslin, CEO of Banque Havilland (Liechtenstein) AG; Alex Fach FACH AUTO TECH team manager for Swiss Porsche racing team; Marc Arand, Group CEO of Banque Havilland; Credit: Banque Havilland
Luxembourg-based Banque Havilland has announced its new partnership with the Porsche Mobil 1 Supercup.
The Porsche Mobil 1 Supercup will hold its eight Rounds as part of Formula 1 events at European circuits including Monte Carlo, Monaco (from 25 to 28 May 2023), Spa-Francorchamps (from 28 to 30 July 2023) and Monza (from 1 to 3 September 2023).
Due to this partnership, Banque Havilland branding will be visible on the Porsche race cars, on its clients on the race track, in the grand stand or even in a Porsche cockpit.
Oliver Schwab, Project Manager of the Porsche Mobil 1 Supercup, said: "We are delighted to begin our partnership with Banque Havilland. It is an exciting new energy for the Porsche Mobil 1 Supercup and we are glad to welcome them onboard. This sponsorship is the latest addition to our fantastic portfolio of partners, and we look forward to supporting Banque Havilland's aim of driving deeper engagement within their community of partners and clients."
Marc Arand, Group CEO, added: "We are thrilled to be joining forces with Porsche. It is an exciting and purposeful opportunity for Banque Havilland to join the family of Porsche Mobil 1 Supercup. In racing and in sports and luxury cars in general, the maxim is to develop everything to perfection and to achieve excellence in execution. [...] The constant questioning of established routines is the key to success and one example is the staging of the racing series with renewable racing fuels. Through this partnership, Banque Havilland can support the move towards a more climate-friendly racing in the future and will continue to reach our clients and partners in new and exciting ways, sharing a common passion, while delivering unique experiences in Europe."