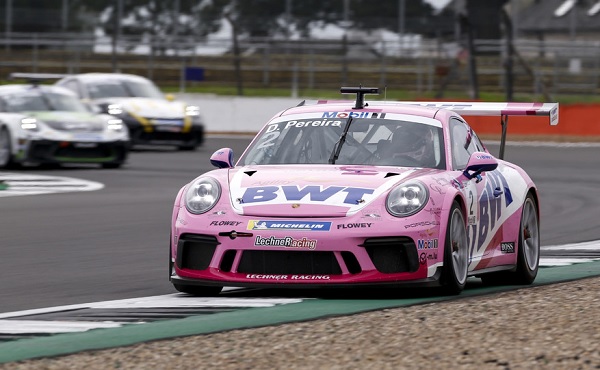 Dylan Pereira at Silverstone, 2020; Credit: © Porsche Mobil 1 Supercup
Despite finishing 6th yesterday in the race at the Silverstone circuit in England, Luxembourg's Dylan Pereira (23 years old) - driving for the BWT Lechner Racing team - has retained his position at the top the leaderboard in this season's Porsche Mobil 1 Supercup.
After a difficult qualification over one of the most demanding and fastest tracks in the championship which requires a very specific driving style, Dylan Pereira needed to find the right balance, suspension and rear wing positioning settings which are is essential for the Porsche 911 GT3 Cup to have both speed and traction on long straights and also through fast chicanes.
In what is the fourth round of the 2020 series, the Silverstone circuit, which has a whole new asphalt surface since 2019 that changes the driving style and the perfect place to brake and accelerate, had Dylan Pereira at a disadvantage compared to the other drivers as he was unable to take part in official practice last year to test the circuit and experiment with the settings.
With all eyes on the performance of the Luxembourger, who is currently leading the championship, and his opponents keen to show that they can do better than the BWT Lechner Racing team driver, Dylan Pereira used free practice to try out different configuration and management solutions.
The timed practice was marked by several runs off the track and yellow flags, especially in the second part of the session. The Luxembourger struggled with a lack of grip at the rear of his Porsche and, on his fastest lap, was delayed by an opponent who went off the track in front of him. Despite this, he achieved 7th place on the starting grid.
During the race, Dylan Pereira got off to a safe start, avoiding the usual collisions in the first corners. During the first lap he climbed to 6th position and ran the entire race just off the leaders, to finish in 6th position at the chequered flag.
Dylan Pereira returns to the track next week, also at Silverstone, for the fifth race of the championship, which opens the Grand Prix of the 70th anniversary of Formula 1.

Results Porsche Mobil 1 Supercup 4th race Silverstone:
1st - Larry ten Voorde (NL)
6th - Dylan Pereira (LU)
General classification Porsche Mobil 1 Supercup 2020:
1st - Dylan Pereira (LU) with 70 points
2nd - Ayhancan Güven with 48 points
3rd - Larry ten Voorde with 48 points
4th - Jaxon Evans with 37 points
5th - Marvin Klein with 33 points