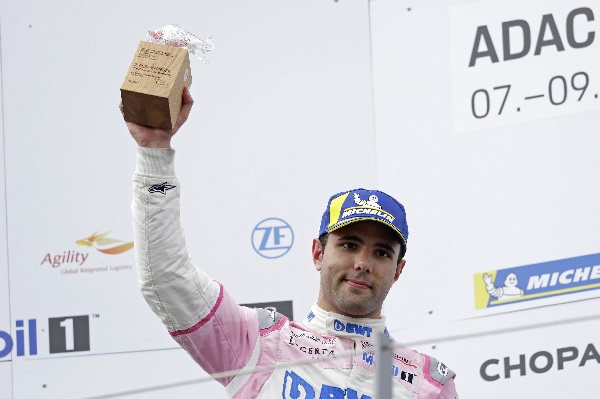 Credit: Porsche Carrera Cup Deutschland - Spielberg
Luxembourg racecar driver Dylan Pereira has secured his spot in the top three in the latest round of the Porsche Carrera Cup Germany.
This past weekend, Dylan Pereira won second and third place respectively in two races in Spielberg, Austria, thus placing the Luxembourger in the top three of the championship.
The fifth and sixth races of the season took place at the Red Bull Ring, a circuit surrounded by mountains, rich in climbs and descents, with slopes of up to 11% and difficult turns, where the braking points are fundamental.
In the timed practice, Dylan Pereira, who had the second fastest time in free practice, was quick to attack with some of the best laps. Midway through the qualifying session, he secured the second fastest time of the session before returning to his box to replace the tyres of his Porsche 911 GT3 Cup. Back on the track, it was a close race between the Luxembourger, current league leader Larry ten Voorde and his teammate at Lechner Racing, Michael Ammermüller, who had the fastest time. Dylan Pereira ultimately took the second place of the starting grid for the first race and the third place for the second.
In the first race, Dylan Pereira got off to a good start but was overtaken by his teammate Julien Andlauer. Shortly after, an accident caused the interruption of the race. After the restart behind the safety car, Andlauer immediately put pressure on the Luxembourger, but Dylan Pereira closed the distance, leaving his teammate behind him. He then put pressure on Larry ten Voorde in an attempt to win the race. The Dutch racer defended himself by making anti-trajectories and it was again Julien Andlauer who took the opportunity to take second place, just ahead of Dylan Pereira. In the next round, the French racer went off the track and Dylan Pereira returned to the second position, finishing the race within one second of the winner and climbing on the second step of the podium.
In the second race, Dylan Pereira again got off to a good start, but was overtaken by Julien Andlauer and Larry Ten Voorde. The Luxembourg racecar driver placed third at the end of the race.
These results mean that Dylan Pereira is on set to achieving his goal of finishing the Porsche Carrera Cup Germany in the top three. Commenting on his performance, he said: "I am very happy. I had good qualifications, good races and good results. In a weekend with many incidents, I managed not to make mistakes and to finish twice on the podium".
Dylan Pereira will return to the track for the Porsche Mobil 1 Supercup (also at the Red Bull Ring) from 28 to 30 June 2019, for the third race of this competition which opens the Grand Prix of Austria in Formula 1.