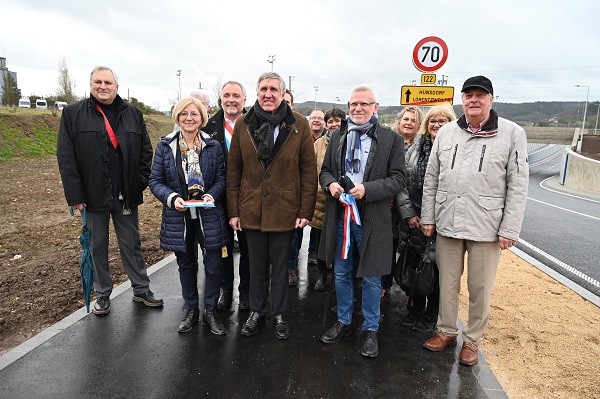 Credit: MMTP
Thursday 9 March 2023 marked the inauguration of a new link road between Lorentzweiler and Hunsdorf in central Luxembourg.
On Thursday, Luxembourg's Deputy Prime Minister and Minister for Mobility and Public Works, François Bausch, in the presence of the Mayor of the municipality of Lorentzweiler, Marguy Kirsch-Hirtt, inaugurated this new link road.
This project is part of a joint approach by the National Roads Administration and Luxembourg's national railway company, the CFL, aimed at removing the level crossings located at the crossing points between the road network of the State and the railway network. Level crossings which are deemed sources of disturbances, both in terms of the fluidity of road and rail traffic and which represent a safety risk, are typically replaced by lower or upper crossings dedicated to traffic. This new link road connects the CR122 coming from Hunsdorf to the N7 in Lorentzweiler and avoids having to go through the PN20b level crossing.
In his speech, Minister Bausch expressed his delight that the new link road would contribute to calming traffic and improving the quality of life of citizens.
The main elements of this project consist of the construction of an underpass about 25 m long to cross the railway line, the construction of a link road connecting the roundabout to the entrance to the town of Lorentzweiler on the N7 to the CR122 towards Hunsdorf and the connection of the PC15 national cycle path to the sports facilities and to the CR122 towards Hunsdorf, among others.
The construction of the structure in a flood zone near the Alzette river and having a depth of 6 m below the groundwater level was the main constraint during the works, which began in November 2020. Next to the access hopper (type of reservoir), a technical room for the lifting pumps and their technical installations has been created to evacuate the runoff water collected at the low point by pumping it towards a retention basin located above, between the sports infrastructure and the link road. Then, the water is drained to a pipe that connects to the drainage system of the agricultural fields located to the north. Similarly, a water level sensor has been installed. In the event of a detection of a rise in water above the level of the roadway, the sensor triggers an alert system which automatically turns the traffic lights to red, placed at the ends of the new road and thus prohibiting access to the underpass.
The total cost of this road project amounted to €17.5 million.