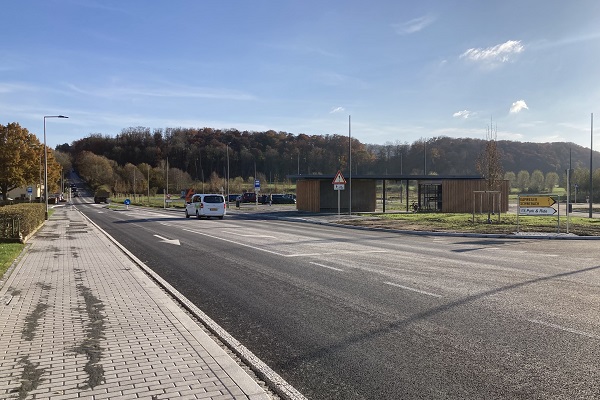 Credit: MMTP
Luxembourg's Ministry of Mobility and Public Works has announced that the Park and Ride (P+R) located in Schwebach in western Luxembourg, along the national road 12, has been operational since 8 November 2021.
The new P+R can accommodate up to 80 cars. It has four Chargy terminals, four Supercharger terminals and four spaces reserved for cars for people with reduced mobility. The car park is open 24 hours a day, seven days a week and parking is free.
Apart from the car park, an "mBox", the secured bicycle rack service, with 32 spaces, has also been installed. Luxembourg currently has a total of 60 mBox "bicycle parks". Access is possible at all times via the mKaart multifunctional card. Access to the mBox system can be requested online at: www.m-box.lu.
The National Roads Administration was responsible for this new P+R project. The duration of the works was one year, with costs amounting to €2 million (excluding plantation costs).
The following RGTR (regional) bus lines will serve the P+R Schwebach:
Line 267: Luxembourg - Saeul - Mertzig (via Reichlange)
Line 437: Mersch - Saeul - Oberpallen (via Calmus)
Line 529: Luxembourg - Bilsdorf
Line 590: Luxembourg - Tuntange - Martelange
Line 595: Luxembourg - Tuntange - Rambrouch - Bigonville
As well as the following school bus lines:
Line 266: Luxembourg - Saeul - Redange
Line 585: Brouch - Redange / Lycée
Line 586: Saeul - Redange / Lycée
According to Luxembourg's Minister of Mobility and Public Works, François Bausch, this new P+R represents an "important link in mobility", which will "help to absorb part of the traffic at the gates of the capital coming from the canton of Redange".