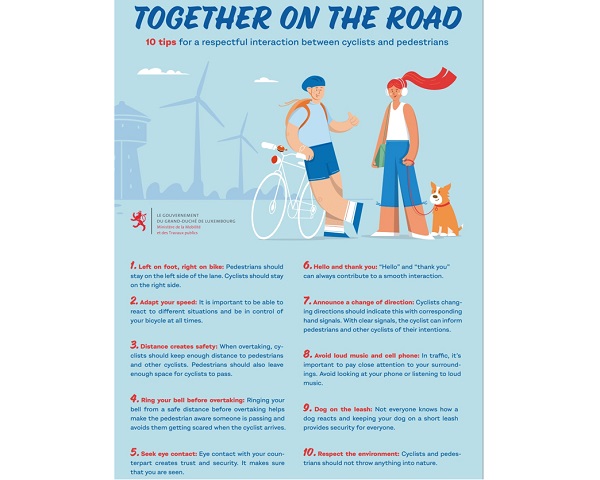 Credit: MMTP
Luxembourg's Ministry of Mobility and Public Works today launched a new awareness campaign entitled "Together on the road", with the aim of promoting respectful interactions between cyclists and pedestrians.
Since the cycling boom during the pandemic and especially during the summer months, cyclists and pedestrians are often together on the same road. At the centre of this new campaign is the mutual respectful interaction between these two types of road users, where both sides are reminded of the importance of sharing public spaces and paying attention to each other.
The campaign aims to make cyclists and pedestrians aware of the significance of simple gestures and practices in public spaces in order to avoid traffic conflicts.
The Mobility Ministry provided the following ten tips for respectful interactions between cyclists and pedestrians:
Pedestrians should stay on the left, cyclists on the right;
Cyclists should adapt their speed;
Keep a safe distance;
Cyclists should ring their bell before overtaking;
Seek eye contact;
Greet and thank each other;
Cyclists should indicate a change of direction;
Avoid listening to loud music and looking at your mobile phone;
Keep dogs on the leash;
Respect the environment.
The campaign will be broadcast in the press, on television and through a radio spot. "Together on the road" will also be launched on social networks and digital screens on trams and in municipalities to draw attention to the rules that cyclists and pedestrians should respect when they are together on the road.
Further information about individual rules are available on the Mobility Ministry's website: www.mmtp.lu.
Watch the campaign video below: