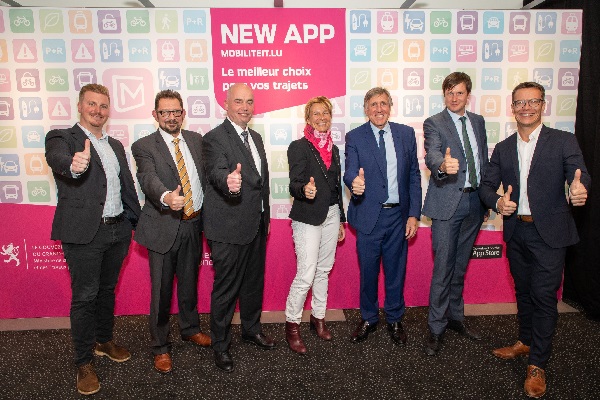 L-R: Joé Pilger (Verkéiersverbond); Jeff Wirth (Vérkeiersverbond); Christan Mousel (Verkéiersverbond); Félicie Weycker (Verkéiersverbond); Minister François Bausch; Gilles Dostert (Verkéiersverbond); Thomas Wolf (HaCon Ingenieurgesellschaft mbH); Credit: Michel Brumat / Verkéiersverbond
Luxembourg's public transport app, mobiliteit.lu, and the accompanying www.mobiliteit.lu website have undergone a major transformation in an attempt to encourage the public to make greater use of the country's public transport network.
The Ministry of Mobility and Public Works, represented by Minister François Bausch, and the Verkéiersverbond (Luxembourg's Transport Federation), represented by Managing Director Gilles Dostert, yesterday unveiled the new design and features of the mobiliteit.lu travel planning app. After years of continuous development, the revamped app will be available in app stores this week.
On this occasion, Mobility Minister François Bausch described the new version of the app as "a pan-European revolutionary search tool" for multimobility. He added that the app complemented the Government's mobility strategy, "which aims to significantly improve public transport" to encourage people to take the bus, tram and train more often.
In fact, the new tool allows users to combine bus, train, tram and car routes with cycling and pedestrian routes, with the addition of real time reporting of live traffic situations. As such, the app integrates all modes of transport, including electromobility, as well as park-and-ride facilities and self-service bicycles,thus offering a more customisable experience for users.
Other new features include the option to create a user account and save individual settings, visualisation of search results in four tabs: "My mix", "public transport", "active mobility" and "alternative mobility" and visualisation of the ecological impact of the chosen route/transport means.
As part of the introduction of the revamped app, the mobiliteit.lu website has also been completely redesigned and is now multilingual (in English, French and German). Its content has similarly been restructured and revised.