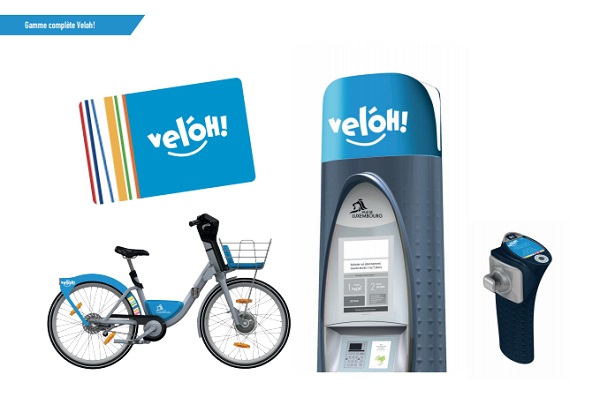 Luxembourg City's College of Mayor and Aldermen today announced details of the commissioning of the new self-service "vel'OH" bike system.
The new system will be operational at 50% of stations from Friday 30 November 2018 onwards. Soon more than 100 vel'OH! stations will be available in the capital and neighbouring municipalities of Hesperange and Strassen.
To better inform subscribers of the vel'OH! system, they will now receive letters from the operator JCDecaux explaining in detail the main phases of the system change.
As a first step, work for the transition phase will start on Thursday 8 November (for 50% of the stations). In a second phase, especially during the night of 29-30 November, all terminals equipped with the new system will be subject to a switchover to achieve the transition of the old vel'OH system! to the new electric assist system. The switchover will also involve a slight adaptation of the secret code of each user which will be completed with two additional "0" zeros and the new identifier to access the account of each user will be his email address.
After the first half of the electrical assistance stations have been put into service, the remaining stations to be equipped with the new system will be closed as the interventions are made within the next fortnight so that 100% of the terminal and docking stations will be operational with the new electric assist system by mid-December 2018. As of 30 November, 50% of vel'OH! stations will thus be equipped with the new electric assist system which will operate as follows: power assistance is activated as soon as a certain power is provided by the user; as soon as the sufficient power level is reached, always at low speed, the engine is activated and the cyclist feels a slight sensation of acceleration and thus knows that the electric assistance is operational; the electric assist decreases as the cyclist approaches the maximum speed (25 km/h).
The new electric bikes, equipped with 3 speeds, will have a range of 30 to 40km. A new multifunctional handlebar, indicating in real time the battery charge level, is equipped with a reader on the side allowing users equipped with a contactless card to release the bike without going through the terminal and the another side of a USB charger to charge the mobile phone during the journey.
Finally, the new docking stations will be directly linked to the new vel'OH! mobile app and allow users to choose a bike, consult their user account, search other stations in the area or find the availability of bikes in other stations. It will also be possible to consult their account directly on www.veloh.lu. The new application as well as the website will also be available from 30 November.