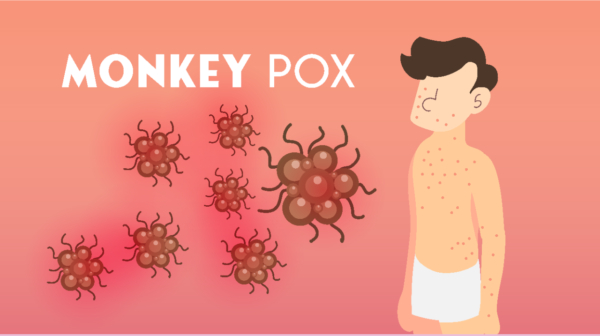 Credit: Ministry of Health (sante.lu)
On Friday 12 August 2022, Luxembourg's Ministry of Health issued a weekly update on Monkeypox in the Grand Duchy and at a European level.
As of Tuesday 9 August 2022, Monkeypox is now present in 41 countries and areas in the European region, with a total of 17,897 cases having been reported to the health authorities at the European Centre for Disease Prevention and Control (ECDC) and the World Health Organization (WHO), which represents an increase of 1,971 cases since last week.
The majority of cases were between 31 and 40 years old (7,072/17,468 - 40%) with the vast majority being men (17,286/17,458 - 99%). Of the cases with known HIV status, 36% (2,911/8,156) were HIV-positive. The majority of cases experienced a rash (10,046/10,592 - 94.8%) and systemic symptoms such as fever, fatigue, muscle aches, vomiting, diarrhea, chills, sore throat or headache (6,875/10,592 - 65%). 455 cases were hospitalised (5.8%). Three cases were admitted to intensive care, including one case who was admitted for reasons other than monkeypox virus infection. The other two cases admitted to intensive care died of monkeypox. Out of the total number of cases, 48 were reported as healthcare workers, all exposed outside of work.
Until 10 August 2022 inclusive, 41 cases of monkeypox have been detected in Luxembourg, which represents an increase of 10 cases since last week. So far all the cases detected are men whose average age is 39 years old. No cases have resulted in hospitalisation. The other epidemiological and clinical characteristics of cases detected in Luxembourg are very similar to cases reported at the European level.
The Ministry of Health recalls that it is important to protect oneself against the virus and to avoid risky situations in order to limit the spread of the virus. Infected people should be isolated and avoid contact with other people, cover lesions and pimples and follow the usual hygiene measures, including hand hygiene. Among the protective measures, it is advisable to reduce the number of sexual partners and not to share personal effects with infected people or who have been in contact with infected people (bed linen, towels, razors, etc.).