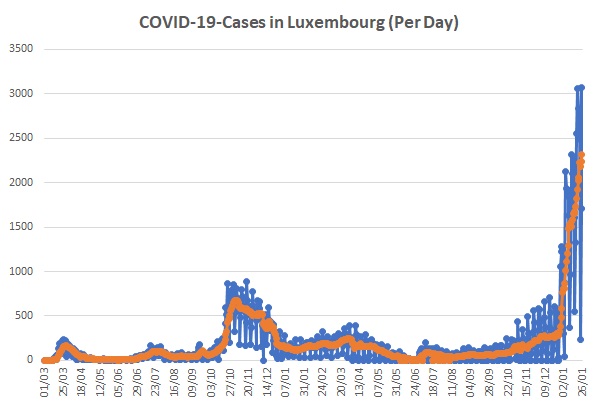 On Wednesday 26 January 2022, Luxembourg's Ministry of Health reported 3,073 new COVID-19 (coronavirus) infections; there have been 946 fatalities (one new death since Tuesday) resulting from the virus to date.
3,073 Luxembourg residents tested positive on Wednesday from a total of 7,894 tests carried out the day before, representing 484.14 people per 100,000 inhabitants. The positivity rate was 38.94%. Wednesday 26 January 2022 marked a new record for daily COVID-19 cases in the Grand Duchy.
The average daily increase (over a 7-day period) is currently 2312.29.
A total of 70 people are in hospital with the virus, including twelve patients in intensive care.
There are currently 30,823 active infections known, whilst a total of 116,076 people have recovered from the virus to date. The effective reproduction rate in Luxembourg stands at 1.08.
A total of 1,212,952 vaccinations have been carried out in Luxembourg to date (474,272 first doses, 416,236 second doses, 322,444 additional doses). A total of 457,643 people are now fully vaccinated.
The incidence rate (per 100,000 inhabitants) for unvaccinated individuals was 789.83; for vaccinated individuals, this was 355.36. These figures only take into consideration people who returned a positive PCR test.
The above graph shows the evolution of the spread of coronavirus in the Grand Duchy on a daily basis since 1 March 2020, with the orange line showing the daily numbers averaged over the past week; the graph below shows the total figures (cumulative) over the same period.