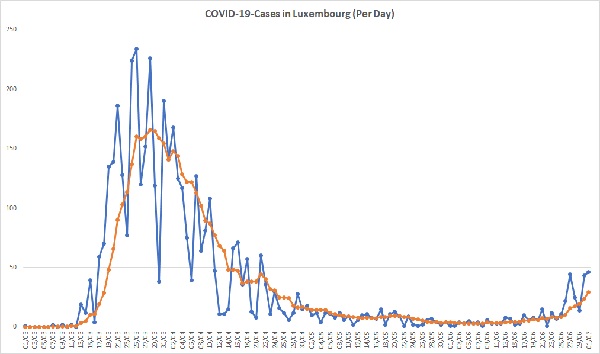 As announced by Luxembourg's Prime Minister and the Minister of Health this afternoon, the number of people having tested positive for COVID-19 (coronavirus) in Luxembourg stands at 4,345 (up 46 from Tuesday), including 110 fatalities (unchanged) resulting from the virus, as of Wednesday 1 July 2020.
Of those people having tested positive for coronavirus to date, 3,527 are residents and 818 are non-residents. The average age of those testing positive is 45, with the ratio of men to women being 51.58% / 48.42%, while the median age of the victims (excluding one patient from the Grand Est) who lost their lives to the virus is 84 (average age: 84). The rate of positive tests stands at 0.96%.
The number of people currently hospitalised with COVID-19 is eighteen, with two patients in intensive care. 955 individuals have been discharged from hospital (including certain short-term stays).
Since the beginning of the crisis, Luxembourg has carried out a total of 191,282 tests (151,186 on residents, 40,096 on non-residents); currently there are 237 people known to be infected while 4,003 have reportedly recovered from COVID-19. The effective reproductive number in Luxembourg is currently 1.41.
The above graph shows the evolution of the spread of coronavirus in the Grand Duchy on a daily basis since 1 March 2020, with the orange line showing the daily numbers averaged over the past week; the graph below shows the total figures (cumulative) over the same period.