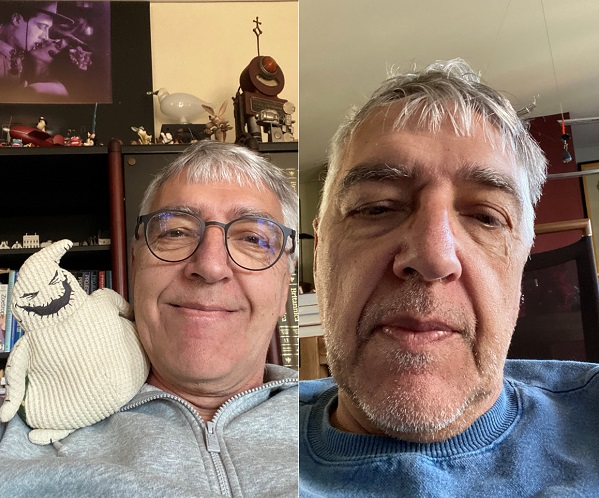 Jean-Pierre Thilges: (1st photo) almost fully recovered; (2nd photo) at the very worst of the infection; Credit: Jean-Pierre Thilges
With the number of people testing positive for COVID-19 (coronavirus) on the rise in Luxembourg and worldwide, Chronicle.lu got in touch with some of those who have contracted the illness in the Grand Duchy to find out more about their experiences with this new invisible threat.
One such victim is Jean-Pierre Thilges, a 67-year-old resident of Soleuvre in south-western Luxembourg, who, together with his wife, is currently recovering from coronavirus at home. Mr Thilges, who describes himself as a "sort of retired film critic", has shared his and his wife's COVID-19 experience in the form of a testimony on Chronicle.lu.
When were you first aware that you may have contracted COVID-19, and what were the initial symptoms?
Jean-Pierre: Right after LuxFilmFest, both my wife and myself felt that there was something wrong with both of us, that went well beyond seasonal flu. She had major problems with her sinuses, couldn't smell or taste a thing. We both felt incredibly tired (intellectually and physically) but were virtually unable to sleep. We were hungry but couldn't eat anything... and if we managed to down anything, it would return pretty fast via vomiting or diarrhoea. We both felt very weak physically and not eating didn't help. Fortunately, although we had a bit of coughing and sneezing, we had no trouble breathing nor were our lungs affected.

Were you tested? If so, how and where (drive-through / hospital)?
Jean-Pierre: Because of my wife's sinus problems, we contacted her ERT (ear, nose and throat) specialist by phone, who prescribed her some medication AND a test, which she took at a drive-through facility the next day. I did not get tested, knowing that if she had contracted the virus, I would have it too.
Had you been practising self-isolation and/or social distancing up to that point?
Jean-Pierre: Yes, we had stayed at home from 13 March, the day after the festival ended. We went out shopping once, though.
How did the symptoms evolve and how did it affect you?
Jean-Pierre: All the symptoms went from bad to worse. My wife had no fever whatsoever, while I usually went from 37° (no fever) to well over 39°or even 39.5° and back within minutes... Dafalgan made it go down. Days 4 to 6 were the worst, but it never got as bad for either of us to consider hospitalisation. I lost 6 kilos over 5 or 6 days.
Did you contact the health/medical service in Luxembourg? Were you hospitalised?
Jean-Pierre: After my wife was diagnosed positive, the Ministry of Health contacted us regularly (every other day) and they also shipped some face masks to our home, which we don't need to use as we are not allowed to leave our home until 5 April. We were not hospitalised. We felt pretty sick, but not sick enough to need hospitalisation. Friends of ours were much worse off.
Please tell us about your experience with the health/medical services in Luxembourg in this regard?
Jean-Pierre: We felt and still feel very well looked after... It helps to have a friendly and caring voice at the other end of the phone. I think we are lucky to live in a country like ours, where you're well taken care of.
For how long did the symptoms last?
Jean-Pierre: We've had ups and downs for some 10 days. We now see the light at the end of the tunnel. We sleep and eat almost normally again, vomiting and diarrhoea have gone and being able to sit outside in the sun seems to perform miracles, too. We do have a large garden, so there's no danger of us getting close to anybody.
What did you do to pass the time while recovering?
Jean-Pierre: Symptoms seem to be gone. But, as luck would have it, hayfever has kicked in with me just now. This almost comes as a relief: bah, hayfever, just hayfever. Humbug!
For how long do you need to remain quarantined/in isolation?
Jean-Pierre: Quarantine for both of us ends on 5 April.
Do you have any advice for our readers as to what to do / what not to do in relation to avoiding COVID-19?
Jean-Pierre: Stay at home if you can, because that virus is a real bastard! It is a killer.
As a reminder, the number of confirmed cases of coronavirus in Luxembourg is 2,178 as of 31 March 2020. The COVID-19 national hotline is available at 8002 8080. Calls from abroad should be made via tel.: +352-497-719200.