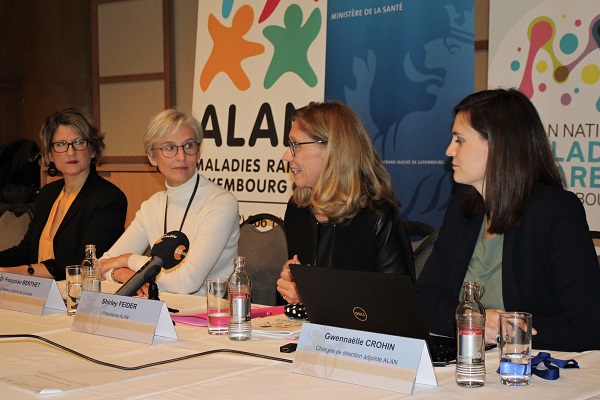 L-R: Francesca Polini, coordinator of National Rare Diseases Plan 2018-2022; Dr Françoise Berthet, Health Directorate; Shirley Feider, President of ALAN; Gwennaëlle Crohin, ALAN; Credit: MSAN
As part of the first National Rare Diseases Plan 2018-2022, Luxembourg's Ministry of Health has launched the "Infoline Rare Diseases Luxembourg" (Infoline Maladies Rares Luxembourg) service.
This new service provides a first line of support, information and consultation for people affected by a rare disease, as well as their friends and family and health professionals.
The establishment of this service was possible thanks to the collaboration and expertise of the non-profit association ALAN - Maladies Rares Luxembourg, which for years has been offering a consultation service offering psychological counseling, as well as administrative and social support to people affected by a rare disease. The association has been mandated by the National Health Directorate to accomplish this mission in the framework of the National Rare Diseases Plan.
Like the other support services available to patients and their families in other countries in Europe, the Infoline Rare Diseases Luxembourg missions include facilitating access to information on rare diseases for patients, their families and health professionals, providing concrete information and advice on available resources and/or steps to follow and improving referrals to competent services in the country. The service also aims to offer a dedicated and specialised listening space and to identify the needs of people living with a rare disease, to ultimately create an inventory.
The Infoline service does not provide support for people and will not offer diagnostic services. It is a first step in Luxembourg aimed at directing the people concerned and their loved ones towards appropriate care and is part of a broader context of the conceptualisation and establishment of a "Rare Diseases House", which is also one of the priority objectives of the National Rare Diseases Plan.
The Infoline is available via tel.: 2021-2022 or email infolineMR@alan.lu on Mondays from 14:00-17:00, Tuesdays from 12:00-15:00, Wednesdays from 09:00-12:00, Thursdays from 12:00-15:00 and Fridays from 09:00-12:00. A reply is guaranteed within five working days. Infoline is now operational and ready to accept inquiries.