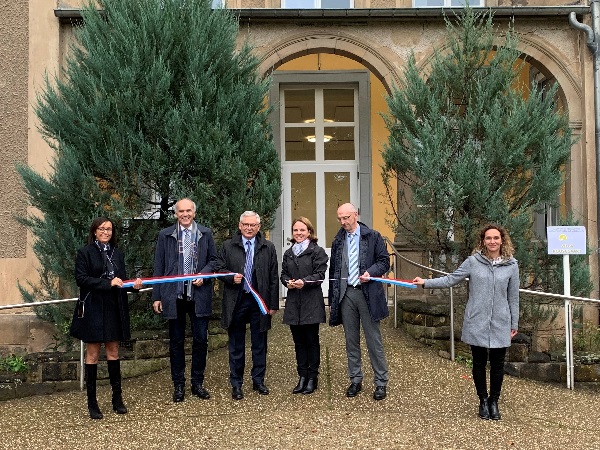 L-R: Miriam Bah-Hormisch (CHNP); Jean-Paul Schaaf, Mayor of the City of Ettelbruck; Dr. Michel Nathan (CHNP); Corinne Cahen, Minister of Family and Integration; Jean Feith (CHNP); Barbara Kirps (CHNP); Credit: CHNP / Tavares
Friday marked the inauguration of two new structures for intellectually disabled adolescents at "De Park" at the Centre Hospitalier Neuro-Psychiatrique (CHNP) in Ettelbruck.
Referring to these new structures, CHNP Accommodation Director Jean Feith said: "Until recently, these teenagers had to be cared for abroad to benefit from suitable professional support that did not yet exist in the Grand Duchy. We had to find a national solution, which is why Minister Corinne Cahen [Family and Integration] asked us to create a service for eighteen teenagers".
Indeed, the structures are aimed at offering support to adolescents suffering from intellectual disabilities in Luxembourg rather than sending them abroad, where they often face new problems such as adapting to new customs, cultures and languages.
Minister for Family Affairs and Integration and the Greater Region, Corinne Cahen, said at the inauguration: "After De Park's flexibility to take care of teenagers in recent years, I'm delighted that they can now live in completely renovated buildings to meet their needs. De Park youth now have a living space and infrastructure where their disability is no longer an obstacle to the organisation of daily life or the fulfilment of their very personal needs and expectations".
Spread across four hectares, De Park is considered a great place to live for residents, as a site integrated into the town with lots of green space. Minister Cahen added: "Without walls and without fences, De Park retains its charm and remains open to the population, the idea [is] not to isolate residents but to integrate them into society while taking into account their individual needs".
The cost of the €2,882,216 (all taxes incuded) project was fully funded by the Ministry for Family Affairs and Integration and the Greater Region.