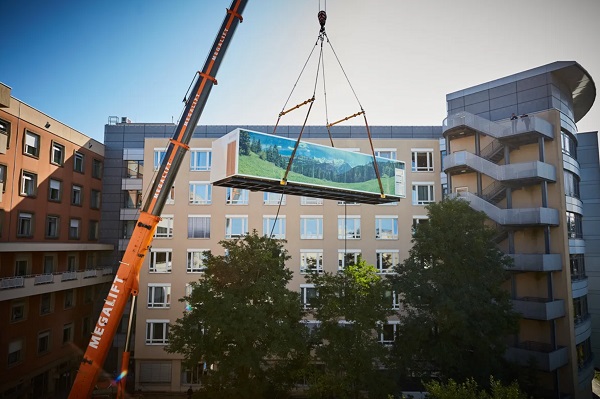 Credit: Siemens Healthineers
Last month, Siemens Healthineers installed a new MRI scanner in a fully equipped container at the Centre Hospitalier Luxembourg (CHL).
This additional MRI scanner, the "MAGNETOM Aera", is designed to reduce waiting times for patients in Luxembourg. The scanner is the third of its kind at the CHL and the ninth in the Grand Duchy as a whole.
Built around a 1.5 Tesla magnet, the MAGNETOM Aera can be used for a multitude of exams, but will be used mainly for examinations of the bones and joints of patients who either do not require hospitalisation or only require a short stay in hospital.
Valérie Boissart, head of the Biomedical Engineering Cell at the CHL, explained: "By reserving the new MRI for osteoarticular examinations, we can give the other two MRIs more specific examinations".
Dr. Romain Nati, Executive Director of the CHL, added: "With the new MRI, we hope to give patients shorter waiting times for appointments".
The installation of the new MRI has also meant an extension of the hospital. Due to a lack of space, two containers were set up in a fully equipped examination room, directly connected to the hospital buildings. The outer container is equipped with an MRI, locker rooms for patients, a cabinet for the radiologist and a waiting bed. Siemens Healthineers managed the project.
Cyril Chantry, project coordinator for Siemens Healthcare Luxembourg, commented: "This project is [the first] of its kind because it includes the development of an integrated MRI in a container outside the CHL buildings but in direct contact with the Radiology Department, as well as a connection to the hospital's medical infrastructure facilities".
He added: "The two containers were already pre-equipped in the Netherlands, then brought to Luxembourg by exceptional convoy and escorted by the Grand Ducal Police in the national territory. On site, containers weighing respectively 10 and 32 tonnes were raised above the trees to finally be deposited near the facade with a precision that we could qualify in the circumstance of "surgical"".
The investment amounts to €1.2 million and is financed by the Ministry of Health and the National Health Fund.