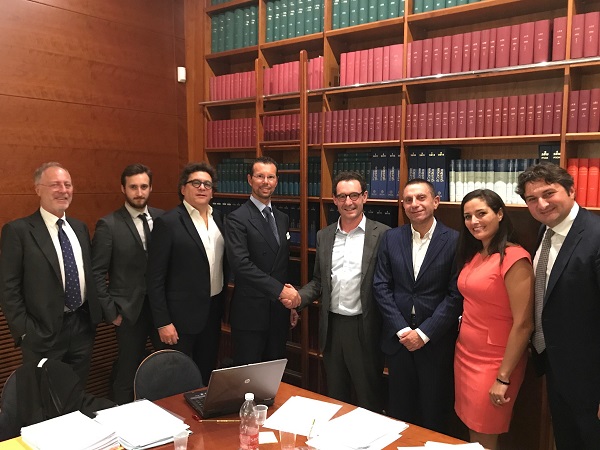 The independent investment holding HLD Europe, based in Luxembourg, announced on Thursday its entry into the capital of M-Cube, leading Italian company in retail store marketing; HLD Europe will support M-Cube in its development internationally.
Founded in 2001 by a group of visionary entrepreneurs, M-Cube has emerged in Italy as the leading player in design and development of digital multimedia solutions (radio and video), supporting the in-store marketing of large retailers. From the creation to the management of deployed solutions, M-Cube offers its customers a wide selection of unique personalised experiences tailored to each target and each location.
M-Cube counts among its clients, major international groups of household goods distribution and fashion, for whom digital multimedia in-store solutions have been installed in 83 countries.
Manio Romanelli, CEO of M-Cube said "HLD Europe has emerged as the natural partner for us to support our future development. Firstly because its team has fully understood the growth opportunities offered by the market of 'in-store digital customer engagement' to a company like M-Cube, structured to operate on international distribution networks; because they shared with passion and conviction our strategy and our business plan; and finally because a relationship of trust was immediately formed, guaranteeing a successful future for our partnership."
Above and beyond the support of its network and know-how of HLD in supporting the growth of companies, this partnership will allow the management team to consolidate its position in Europe.
"I am very happy to have initiated the HLD Europe and M-Cube relationship as they complement each other in their development strategy." said Francesco Silleni, Senior Advisor Italy.
"In a market with strong growth, M-Cube has emerged as the leader in Italy. Its Management has the credibility and the ambition to build M-Cube into a leading international player." said Jean-Philippe Hecketsweiler, associate founder of HLD.
Anne Canel, Managing Director of HLD Associés Europe (Luxembourg), in charge of the international development of HLD added: "This first operation in Italy in a company with strong growth is highly symbolic for HLD Europe, signing its first acquisition through our team in Milan, at a time where our shareholders are becoming more and more European. We are now truly European."
Thanks to this partnership, M-Cube is already looking to 2018 with foreseeable continued deployment of major contracts as well as its development in other European markets.