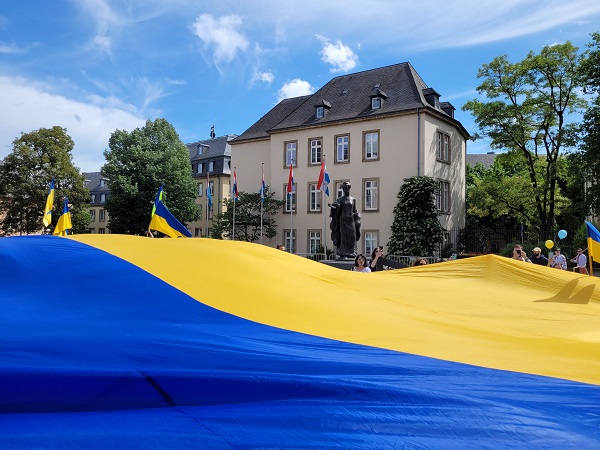 Photo taken at a recent protest organised by LUkraine asbl in Luxembourg City; Credit: Jazmin Campbell
English-language online newspaper Chronicle.lu, which is celebrating its 10th anniversary this year, and LUkraine asbl, a local non-profit organisation representing the Ukrainian community in Luxembourg, have decided to join forces in a new media partnership.
From Friday 15 July 2022, and for an initial four-week period, Chronicle.lu will be publishing more regular content in relation to the work of LUkraine asbl in supporting Ukrainians in Luxembourg and in Ukraine, as well as recent developments in the ongoing Russia-Ukraine war.
We at Chronicle.lu recognise that this is a unique situation. We have learned from LUkraine asbl that although exposure and donations were very high at the start of the war, both have tailed off considerably.
In this context, we at Chronicle.lu are trying to inform our readership of these issues and evolutions. The decision to work more closely with LUkraine asbl forms part of Chronicle.lu's desire to get even closer to the various communities which are present in Luxembourg and to highlight local efforts to support Ukrainian refugees in the Grand Duchy.
This media partnership will launch on 15 July with an exclusive interview with Nicolas Zharov, President of LUkraine asbl.
Further information about LUkraine asbl is available at: https://ukrainians.lu/