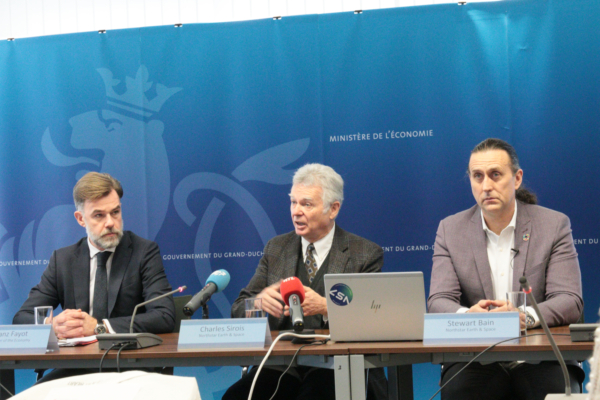 (L-R) Franz Fayot, Minister of the Economy; Charles Sirois, Chairman of the Board of NorthStar; Stewart Bain, President and CEO and Founder of NorthStar; Credit: Kangkan Halder
On Friday 17 December 2021, the Luxembourg Future Fund (LFF) announced €10 million investment in the NorthStar Earth & Space Inc. (NorthStar), which has its planned European headquarters in Luxembourg, to support sustainable space activities.
The Earth's near-space is now littered with hundreds of thousands of Resident Space Objects (RSOs) like debris and rocket stages that orbit the Earth with an uncontrolled flight path and a complete and continuous overview is necessary for safe satellite deployment and life-time management.
In the coming years, mega-constellations are planned in a race to get satellites up and deliver new and innovative services and satellite operators are in urgent need for cost-effective assessments of safety and sustainability measures.
Earlier in August 2021, in a major boost for NorthStar, the Innovation, Science and Economic Development (ISED) Canada approved in principle the requested radio frequency spectrum for NorthStar's planned 52-satellite constellation. The first twelve-satellite constellation would be equipped with optical sensors and the remaining 42 satellites would have a combination of hyperspectral and infrared (IR) sensors.
The French-Italian aerospace manufacturer, Thales Alenia Space, has started to build the first three satellites for a launch scheduled in the first quarter of 2023 and NorthStar plan to deploy the first constellation of twelve satellites by 2025.
Luxembourg's Minister of the Economy, Franz Fayot said "NorthStar's approach is paving the way to a safer and sustainable future in space. Luxembourg has a long-celebrated reputation for creating pioneering partnerships with private space companies that generate technological advances and innovation for sustainable activities bath in Space and on Earth."
Patrick Nickels, Chairman of the LFF Board, announced: "The Luxembourg Future Fund is very pleased to co-invest alongside Telesystem in NorthStar. This strategy investment reinforces the Luxembourg space cluster and helps strengthen the country's positioning as one of the leading locations for space technology companies in Europe and worldwide." He also mentioned that this will be the LFF's seventh co-investment and first in terms of global space technologies.
"Luxembourg's pioneering work to develop SES Global, the world's largest commercial satellite operator and continuing initiatives and investments in ICT play a significant role in the New Space economy," said Charles Sirois, the Chairman of NorthStar.
Stewart Bain, CEO & Founder of NorthStar said: "NorthStar is privileged to receive this important investment from the Luxembourg Future Fund to help facilitate the launch of NorthStar's unique space based SSA services. NorthStar is eager integrate into this vibrant and creative community of space leaders and visionaries."
NorthStar will also set up a centre of excellence in Luxembourg for Space Situational Awareness (SSA), Space Domain Awareness and Space Traffic Management.
Alain Godard, Managing Director of the European Investment Fund (FEI) acknowledged the ever-increasing size of the space sector and financial support needed.
Later talking to Chronicle.lu about why Luxembourg is an obvious choice for European headquarter, Mr Bain said "As an entrepreneur, when you hear the success story of SES global, you know it is an act of vision, an act of determination to that. Luxembourg has demonstrated way above its weight what it delivers to the space community and continues to want to do that."
Taking note of the European Sapce Agency's (ESA) European Space Agency Copernicus Sentinels programme which also provides radar and multi-spectral imaging instruments for land, ocean and atmospheric monitoring, Mr Bain commented "Government's must keep doing what they are doing. It provides an essential service. Government's provide the high-risk front leading research and development. Commercialisation always comes as a complement. The data coming from those areas can complement the types of unique datasets we can provide. It is about giving the people right tools and if people see value in our tools and services, they would buy them."
About NorthStar
The NorthStar Earth and Space Inc., located in Montreal, Canada, will be the first commercial service to offer space traffic data, collision avoidance and navigation services via a constellation of satellites with dedicated optical sensors.
The first twelve-satellite constellation "Skylark", will be equipped with optical sensors and orbit in four spiral-trajectories with three satellites each. The data will digitally characterise, track and catalogue space debris objects, and as service, offer trajectory predictions of debris, satellites and other spacecrafts to avoid collisions in space.